Weird Spa Treatments
Published: 20 November 2013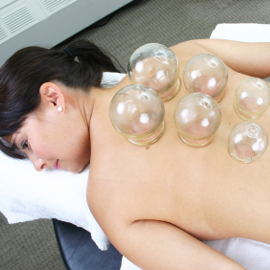 White bath-robes, cotton slippers, dimmed lights and relaxing music are what you would usually expect at a spa treatment. These days though, spa treatments include all sorts of weird and wonderful things promising to have beneficial properties for your body and mind. Do they work? Well, customers swear by them and since they're a growing trend, it certainly seems that there are a few merits to frolicking in heated hay or sharing some space with a snake. If it's not for you, then you can stick to the more conventional treatments, but if this sounds like something you may be interested in, then read on because we've got the very best - and weirdest - treatments from around the world.
Snake Massage, Israel
Thinking about snakes may bring feelings of fear and reluctance to the surface, rather than relaxation and peacefulness, but at Ada Barak Spa in Israel placing a snake on your back and allowing it to give you a massage is considered a very effective way to unwind; but don't worry they aren't poisonous. The snakes, which are California and Florida King snakes, are placed on your back and are meant to help with deep tissue massaging and alleviate muscle pain. Snakes have long being given a bad name, so I can see how this treatment can raise a few eyebrows, but it seems to be working, so why not give it a go?
Hay Bath, Italy
In Italy at the Vigilius Mountain Resort, you can take a hay bath, which sees you relaxing in a water bed heated to 37 degrees Celsius while being wrapped in wet hay. I can't say I can imagine how comfortable or even relaxing a bed of hay can be, but it's reportedly meant to ease rheumatism and general aches and pains, boost the immune system, improve circulation and help with weight loss. Year ago farmers realised that for some reason they felt a lot more refreshed and rejuvenated after sleeping on a bed of hay. Fast-forward to a century where people are concerned with relaxation techniques and health-tips, and you have a recipe for success.
Cactus Massage, Mexico
This may just be the strangest treatment on the list (as if a snake massage wasn't enough), because surely a cactus treatment seems more like acupuncture than an actual massage? According to people who have had the treatment before, it's not painful at all because the prickly needles are removed and only the leaf is used. The treatment offered at the Four Seasons Resort in Mexico is meant to remove toxins from your body and rehydrate your skin using natural properties that resemble those of Aloe Vera. The cactus leaves or paddles are heated in warm water, and once they're soft and pliable, they're split in half and rubbed onto the skin, gooey side down with the juice of the leaf quickly absorbing into your skin. It's a local speciality in Mexico, and while it may sound tempting to try it out at home, we advise you to proceed with caution.
Arctic Ice Room, Las Vegas
Most of us are familiar with the steam room, in fact it's become a standard feature at many spas, gyms and even houses. The benefits of detoxing and sweating all those worries away appear endless, but Vegas does it slightly differently. Instead of a steam room, Caesars Palace hosts an Arctic Ice Room. It's basically a mini Winter Wonderland, with a room that is cooled down to a chilling 12 degrees Celsius. They even have snowflakes falling from the roof as well as a shaved ice fountain. Cooling down the body drastically after a bath is said to help with your blood circulation and even your metabolism. And there's no need to worry about hypothermia, since the system is based on age-old Roman principles on ice baths and is specifically designed to hydrate your body.
Fish Nibbling, Malaysia
Pedicures with fish nibbling at your feet have become quite normal in recent years, but The Sampuoton Spa in Malaysia has taken it a step further. Instead of just your toes and heels getting the ticklish treatment from the tiny fish, your whole body is immersed in water and the underwater creatures descend upon your body en masse. The treatment is said to help with stress and fatigue and improve your circulation and blood flow. Some people have even stated that it has helped their eczema. Although this treatment seems to fall on the lower end of the weirdness scale, it still makes us squirm to think of all those tiny mouths nibbling at your body.
more blog posts