Unique Dining Experiences Around the World
By: Guest Blogger
Published: 09 April 2013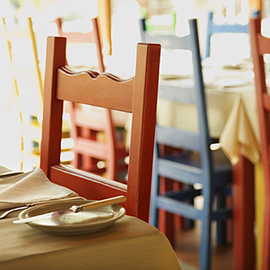 For many, mental bucket lists include exciting places we want to visit and unusual food we'd like to try; Paris in the spring, taste Grenouilles (Frog Legs), the island life of Jeju in Korea, sampling Galbi the country's traditional dish... and the list goes on. Enter Essential Travel's Top Unique Dining Experiences. It's the best combination of unforgettable cuisine, a little bit of crazy and a lot of travel.
The Rock Bar, Bali.
As if Bali wasn't breathtaking enough with its volcanoes hugged by swirling mist and tropical blue beaches, they decide to build The Rock Bar - a restaurant lounging at a nail-biting 46 feet above the Indian Ocean on Ayana's towering cliffs.
Imagine stepping into an open air bar overlooking the beautiful and undisturbed coastline of Bali, sipping your favourite cocktail while listening to the waves crashing beneath you and admiring dreamy views as far as you can see. The Rock Bar's minimalistic design brings this idea to life.
Drinks and light snacks are on offer, and there's a variety of cuisine available from Ayana's Resort's restaurants.
Opaque, Los Angeles.
Being led to your table in complete darkness isn't the way most dinners start, but at Opaque it's all about experiencing your food with your senses heightened. Sitting in the dark unable to see with trained waiters bringing you your meal heightens your sense of smell, touch, taste and hearing. There's no doubt that being kept in the dark will bring excitement to your dining experience.
The restaurant has a selection of set menus to choose from, tempting you into the dark for an evening with friends to be remembered.
Grotta Plaazzese, Italy.
We have heard about seaside restaurants before, many of us even frequent them. But Grotta Plaazzese in southern Italy has taken seaside dining to a whole new place - a cave.
Imagine being seated for dinner in a limestone vault that looks out onto the ocean. As the sun sets, the cave becomes illuminated, while the sounds of crashing waves linger and the fresh smell of the ocean air and Italian cuisine meet to create a unique, romantic atmosphere.
You'll have to book early though, not only is it in high demand, but it's also only open in the summer months - with good reason, I doubt anyone would enjoy frozen food in a cold cave.
Dinner In the Sky, London.
Arriving for dinner at a large field with a construction crane on site may sound odd, but Dinner in the Sky has introduced this exclusive concept to the world. The construction crane hoists a platform which holds a dining table and chairs 50 meters into the air, offering people a dining experience with an adventurous twist.
Seated at a table that is suspended in the air, with breathtaking views, but very little between your feet and the open air surrounding you, can be quite an adrenaline rush.
An early morning breakfast suspended in the sky will wake you up far better than caffeine, and if you're not a morning person, their delicious lunch and dinner menus can also be enjoyed. Dinner in the Sky is a must-try for anyone looking for something fun and different.
Ninja Restaurant, New York.
A low-lit restaurant with many deceiving illusions and laid out in a series of complex mazes makes for a uniquely themed dining experience. Ninja Restaurant brings Japanese culture to New York City and is authentically designed to look like a Ninja Valley during feudal times, letting patrons experience another world.
For those who like the excitement of travelling and trying new food, this place is perfect. Not only do they serve Japanese dishes that are interesting to look at and are incredibly tasty, but your meal is enjoyed in a setting unlike any other.
Ithaa, Maldives.
Staring out of the glass window as you spot a brightly coloured fish swim past, you discover a world of crystal clear waters, colourful, delicate coral and active marine life. Take your first bite of French cuisine and become lost in an underwater world. Ithaa, meaning mother of pearl is an intimate restaurant that brings the fascination of being underwater to life.
The Maldives Ithaa Undersea Restaurant, an all-glass restaurant found three metres under the crashing waves of the Indian Ocean, is the first of its kind. And it's the perfect way to experience Maldives' rich tropical waters, without getting wet or hungry.
Have you had a unique dining experience? Let us know in the box below.
more blog posts