Flying Back To The 90s
By: Guest Travel Writer
Published: 18 September 2012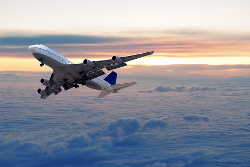 There has always been a fascination with flying. I used to spend time parked at the airport just to watch the planes taking off, trying to imagine how it would feel to be up in the air.
I know flying terrifies some, but for me the idea of soaring across the sky means a chance to reach out and grab my dreams. Since I was stuck on the ground, I was reduced to listening to songs about flying to try get that on-top-of-the-world feeling. It's a tricky emotion to describe and truly capture, but when vocal artists get it right, boy do they get it right, but when they get it wrong...well let's just say that they either provide for a good solid giggle or a reach for the ear plugs. With this in mind, I chose ten of the top 90's flying songs.
I ended up finding the songs that got stuck in my head, those that still make me soar and then the ones I wish we had heard more of back in the day. And then there was that one song that just took-off with my heart. So, turn up the volume and get ready to be lifted up and entertained by these 90's hits.
The Earworms We Love to Hate
Possibly one of the most famous flying songs of the 90s is I Believe I can Fly by R Kelly. The jury is still out on this one as to whether it's inspirational or just over-played, so it's up to you to decide...
While Westlife stole many of our hearts with their soulful ballads and upbeat melodies, Flying without Wings was just a little too much and got way more than its fair share of radio time.
Sugar Ray produced a fun song, Fly. The problem though, is that it has a very repetitive beat, which would often end up supplying my soundtrack for the day - whether I wanted it to or not. So while it was enjoyable once or twice - having it on replay in my head was just too much.
The Songs to Make You Soar
Lenny Kravitz's Fly Away had us all dancing around our rooms and spreading our arms to get away - or was that just me? An awesome feel-good song that I hope will get you moving.
Tom Petty and the Heartbreakers took my mother's breath away back in 1991 with their defining hit Learning to Fly and it took mine away too the first time I heard it. All I want to do when I listen to this song is take a drive, wind down the windows and feel the wind rush over me as it blares through the speakers.
Pearl Jam gets it just right with the achingly soulful ballad Given to Fly. It makes me want to get down to the beach and let the waves of emotion wash over me while I watch the sun set. It's a beautiful song that lends itself to being a potential reminder of all the rumble-tumble emotions you may have been experiencing back in the day.
Off Achtung Baby, the album that helped redefine U2's sound, The Fly is a song that just didn't get enough airplay, despite being a number one hit. It's one that still deserves to be played over and over again.
Phil Collins has had many great hits over the years, but We Fly So Close never got the airtime it was due.
Fly to the Angels made it to number 13 on the charts in 1991 and was one of Slaughters' defining singles.
Foo Fighters' hit single Learn to Fly encapsulates that on-top-of-the-world feeling better than any other - and the video for this song is just so laugh-out-loud funny. Here's to lyrics and riffs that make you want to get up and be in the moments of your life, instead of watching them march right past.
more blog posts