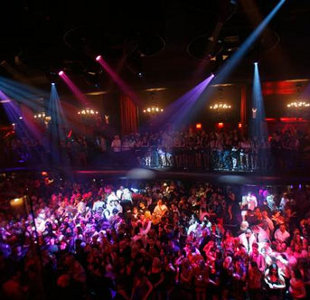 There are many reasons why London has always been one of the top tourist attractions. While the queen, Big Ben and the London Eye are some of the top tourist draw cards, the party scene in London isn't far behind. From pulsating dance floors, to the most sought after DJs in Europe, our list of the Top 5 London Nightclubs will have you dancing the night away.
Ministry of Sound
Does Ministry of Sound even need an introduction? It's the mother of all clubs and after 22 years, it's still a trendsetter with clubs across the world waiting for the next musical move the Ministry of Sound will think up. I don't need to tell you that with five rooms, four bars, four dance floors and four DJ booths, the club is HUGE. What I do need to tell you about is the Box, a room which houses the club's main sound system, a specially-built roof to contain sound and - wait for it - a spring floor intended to allow clubbers to dance for hours without tiring. There's something about unique dancefloors that makes me want to go there. Right now. The Ministry is known for sound production, so only the best undiscovered and internationally recognised talent play there. So, aside from its history, size and music, what makes this club so unique? The reason is pretty expensive. Every year the club invests thousands of pounds into improving the whole clubbing experience - the sound and lighting gets changed and shaken up and the decor takes on a new face. It may be expensive, but it certainly seems to be working.
Plan B
Let's start with mentioning that Plan B has a 24 hour license. Yep, no shut-off time for the music and no closing time for the bar. You can literally party all night. The warehouse-style interior only makes the whole atmosphere more interesting. Which is exactly their aim, especially considering their huge Funktion One sound system that can probably be heard throughout all of London. Their musical guests range from groups the likes of Basement Jaxx to that of Juan Atkins. Plan B manages to blend the classic and contemporary culture of music perfectly to create an atmosphere that anyone can enjoy - it's this creativity that has put them at the forefront of South London nightlife.
Fabric
When you've been voted the number one best club in the world by DJ Magazine, then expectations for a night to remember rise really high. Fear not fellow party-goers, Fabric delivers one of the best clubbing experience you'll ever have. The Victorian architecture accompanied with what I can only assume is a purposely dilapidated-looking exterior, provides all the feel of an underground club reserved for the privileged few. Of course, a three room club with independent sound systems, two stages for live acts and - once again, wait for it - a vibrating dance floor emitting bass frequencies of the music played, are just a few of the features that scream mass appeal. While all of this is fantastic, what makes Fabric really unique is the music. Hosting a mix of underground DJ talent, internationally-renowned electronic music legends and live musical acts, the popular club sets the tone for a night you're not likely to forget.
Heaven
Heaven is more than just your run of the mill dance venue with loud music. It's a super club. Located close to Trafalgar Square just under Charing Cross Station, the popular nightclub lines up some of the most impressive DJs who are more than happy to provide the crowd with the latest European dance music. Instead of one big space with everything happening in it all at once, Heaven houses a series of interconnecting rooms. There's also plenty of space to chill out if you want a bit of a rest. Heaven has a long history, opening way back in 1979. At the time, most of the gay clubs were small and hidden way, but Heaven made gay clubbing mainstream and still sets the tone for gay clubs across the world. As they say, nothing beats the original.
Egg
The name is weird, I know. But what it lacks in a name it makes up in, well, everything else. Egg has three floors, a balcony terrace, a courtyard garden, grass and a swimming pool. Now all that is needed are the guests. How about 800 of them? That's Egg's capacity - massive in terms of clubbing space. It's clear that Egg pushes the boundaries in terms of style, but what about everything else that makes a club great? With some of the best sound and lighting production available, the mix of an indoor and outdoor party, a 24-hour licence and of course the best DJs around, it seems as if Egg has all the ingredients for a memorable night.
more blog posts