Top 5 Bonfire Night Festivals
By: Zoe Harrington
Published: 03 November 2012
Tags: events
Remember remember the 5th of November...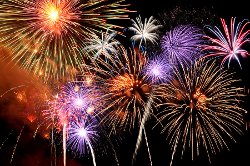 Bonfire Night, also known as Guy Fawkes Night, brings about brilliantly lit skies, sparklers, and booming sounds until the early hours of the morning. The celebrations of this night are also accompanied with an interesting history: The failed gunpowder plot of 1605. Guy Fawkes was a part of the scheme to blow up the House of Lords with gunpowder so that King James could be assassinated. Needless to say, he was caught before it happened, tortured and executed. That very night, 5 November, the people of England made bonfires to celebrate the safety of their king.
There's so many places in the UK to go and watch firework displays and contribute to some enormous bonfires - here is just a handful of the best places to celebrate this old English tradition.
1. Lewes Bonfire - East Sussex, England
Taking place on 5 November, the most famous bonfire festival in England - the Lewes Bonfire - draws over 80,000 spectators each year to enjoy the stunning firework displays and the many parades through the streets - commemorating the Protestant martyrs who were executed for their country. Fire-lit, huge wooden crosses and people dressed as colonial soldiers marching with banners are just some of the different things you can expect to see. The bonfire is actually so big that it is organised by seven Lewes bonfire clubs from different areas of the small town.
2. Glasgow Green Fireworks - Scotland
This is Scotland's biggest Guy Fawkes festival and best of all, it's free. People from all over flock to Glasgow Green to be a part of this fun-filled day and night. The festivities begin at 4pm for anyone looking to enjoy the variety of food and drinks stalls.
The fun continues at the funfair that opens at 5:30pm. Glasgow's biggest firework display kicks off at 7:30pm and is definitely something not to be missed. There will also be tons of entertainment to make sure that this is a night to remember.
3. Bristol Zoo Bangless Bonfire Night - Bristol, England
While fireworks are beautiful to look at, I always tend to find myself worrying about how the loud bangs affect animals. Bristol Zoo offers a splendid night out for the family this year to celebrate Bonfire Night - and it will be easy on the little ones' ears as well as the animals'. The zoo uses low-noise fireworks, making the firework phenomenon virtually silent. Taking place on 3 November, families can start the festivities at 4pm with some nice, hot drinks and food to warm you up a bit before the fireworks display at 5:30pm. Enjoy watching the night sky fill with sparkles, quietly and beautifully.
4. Ottery St. Mary - Devon, England
Now here's a bonfire night with a bit of a difference, and it comes with its own safety rules. Devon has plenty of warm and toasty bonfires for you to sit in front of and stay warm in the cool Autumn evening, but you can't do this without seeing the famous flaming tar barrels first. Every year, on 5 November, thousands of people gather to witness this odd tradition as men carry flaming tar barrels through the streets. Dating back hundreds of years, it's truly remarkable to watch. Nobody is completely sure what the reason is behind this event - some have even suggested that it's to rid the streets of the devil! Whatever the reason, make sure you don't miss out on it before making your way to the bonfire and funfair.
5. Sparks In The Park - Cardiff, Wales
Cardiff's annual Sparks in the Park at Cooper's Field is arguably the biggest bonfire festivity in Wales. Taking place on Saturday, 3 November, the park has entertainment for people of all ages, perfect for the whole family. You can kick off your afternoon by browsing the many food stalls, having refreshments in the beer tent or exploring the fairground. There is a kiddies firework display at 4:30pm (just in case you need to get them tucked into bed early), followed by a magnificent bonfire at 6:15pm. Finally, the awe-inspiring main fireworks display begins at 7pm, and carries on for half an hour. Tickets are £3 per child and £6 per adult and the proceeds go to charity.
more blog posts