The World's Biggest Food Fight
Tomatina Festival, the biggest food fight on earth, is back on Wednesday the 25th of August at the famous Spanish town of Bunol.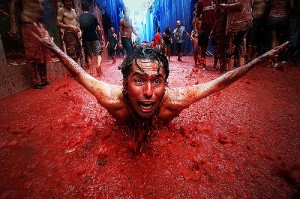 The great tomato festival started way back in 1944, when a fight broke out at a local parade. According to the festival's official website, a group of feisty youngsters took up arms, in the form of tomatoes, and hurled them at the procession. Before you could say Napolitana sauce, the whole crowd was following suit.
At first, local authorities weren't thrilled by the repeat performance a year later. Nor the year after that. There was a grey period during the 50's when the festival was banned and people were doing it at the risk of getting jail time.
It was in 1957 that La Tomatina was legalised and started resembling the awesome event we know today. Which is more like a three day party with live music and up to 40, 000 frothing to get their clothes dirty.
Find out more about the events leading up to La Tomatina 2010 on the official website, as well as valuable tips, like the following:
Do not carry bottles or hard objects - they can cause accidents and hurt others
Please crush tomatoes before you throw them - the blow will be less painful
Keep a safe distance from the trucks
Stop throwing tomatoes when you hear the second shot
Diving goggles will help protect your eyes - the acid from tomatoes may sting after a while
If you want to see better, don't climb up railings, windows, pillars, etc.
If you want to spend the night in Bunol, make sure you look for accommodation in advance
more blog posts