Is It A Good Idea To Book A Secret Saver Airport Hotel?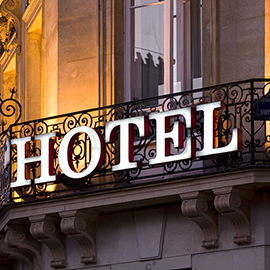 Secret hotels may sound mysterious but in fact they are a savvy way for travellers in the know to bag themselves the regular airport hotels that are featured on our website, with all the same amenities and standards of service, but at discounted prices.
From the hotel's point of view, they get to fill their surplus rooms, and you benefit with a lower price than usual. These hotels cannot offer the heavily discounted prices and reveal their name, so the only way to get the discounts is to keep the name a secret. They aren't that mysterious in reality though - you can find out exactly how far they are from the airport, what star rating they've been given and whether there is a restaurant, bar, leisure facilities etc before you make your booking.
And, just like normal airport hotel packages, with many of our secret saver airport hotels, you can choose one with or without airport parking, as you wish.
Once you've made your booking, the secret's out and you'll be sent all the details of your package.
Why Book An Airport Hotel?
Airport hotels are the sensible option for travellers who don't fancy making a long drive in the dead of the night because they may have an early flight or just live a long way from the airport. They are also particularly helpful in winter when driving conditions can be tough, or when you are travelling with children or the elderly, as it spreads the physical travelling out a bit for all concerned.
What's more, airport hotels can even be that extra touch of pampering for those who would rather arrive at their hotel and relax for the evening before their flight, or perhaps can't travel at that time because public transport isn't available.
Stretch Your Budget That Little Bit Further
Not only do Secret Saver Airport Hotels make sense if you are on a strict budget, but they also mean that you could bag yourself a luxury four-star hotel for the same price as a three-star and get your trip off to a more pampered beginning.
more blog posts