Richard Long: Heaven and Earth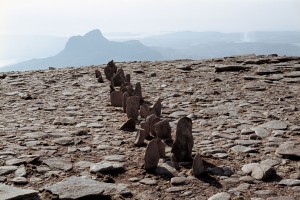 Walking has never been one of my great loves: blisters, sweat, bleak-looking khaki ensembles. What's to love? But British sculptor Richard Long has actually managed to twist my arm this week through his retrospective show, Heaven and Earth at Tate Britain.
The artist sees walking as a form of art - this may sound like the worst kind of conceptual nonsense, but bear with it - and over 40 years has covered hundreds of miles of land from the highlands of Scotland to the Sahara desert.
His walks are then related through maps, photographs (of sculptures he creates during his walks from things he's found such as rocks or wood), installations and poetic lists that can be simply what he's seen or heard en route.
By rights, the results should come across as a cold experiementalism, but he has a way of breathing warmth into his work and expressing his solitary reflections in a way that makes you want to dig out your walking boots (or buy some in my case) and go out and see what all the fuss is about.
more blog posts