Passport Queues Break Records - How Long is Your Wait?
04/05/2012
By: Matt Wilke
Tags: news
Over the last week, the length of time passengers have been left standing in queues at Heathrow's passport control desks have reached the attention of the media and the public has been left asking the question of whether or not these long waiting periods will have an effect on foreigner's perception of the UK during the Olympic games.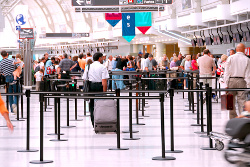 According to government spokespersons, the queue delays are due to severe weather and flight delays, however subsequent to these statements, data was leaked showing that queuing times at one of Heathrow Airport's terminals had broken official time-limits over 100 times within the first half of April.
Did You Know? The limits specified by Heathrow for their passport control queues are a maximum wait of 45-minute for non-EU passengers and a maximum wait of only 25-minutes for EU-passport holders. Recently, there have been reports of some passengers waiting for up to 2 hours before clearing passport control, which sees a huge knock on effect, especially for passengers who have other transport waiting for them or have booked Meet and Greet Airport Parking packages.
Let Us Know Your Experience
Essential Travel begs the question of whether this is isolated to Heathrow Airport, if indeed weather and flight delays are to blame. Let us know if you have experienced similar delays at any other UK airports or at the Euro-tunnel border control posts by:
Tweeting us with the Hash Tag #PassportQueues and Hash Tag the airport you experienced delays in and how long you were delayed for
Writing a comment in the section below and let us know about your experience
Example: #Heathrow Airport #PassportQueues - 45 Minutes