Grab a blanket and pack a picnic...this year's season of open air theatre has begun and it's worth risking the rain for.
Toad Hall! and Don Joan in Love at Scoop
Scoop at More London, a sunken amphitheatre alongside city hall, hosts free music, comedy, film and theatre to packed, picnicing crowds every summer. This year Londoners can expect Toad Hall adapted by theatre company The Steam Industry in association with young people living in Southwark and, for the adults, a racy, contemporary version of Jose' Zorrilla's Don Juan. Aug 5-Sep 5, www.morelondon.com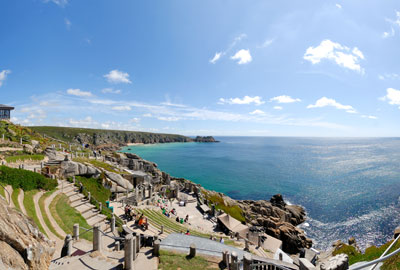 Regent's Park Open Air Theatre
London's premier alfresco theatre hosts a typically impressive array of events this season. Theatre productions include Shakespeare classics Macbeth and The Comedy of Errors as well as Arthur Miller's The Cruicible and a retelling of Grimm's fairytales, Into The Woods. There theatre also lays on fantastic alfresco dining and drinking options for a complete night out. Dates vary, see www.openairtheatre.org for more info.
Minack Theatre, Cornwall
This stunning open air amphitheatre overlooks the sea from its coastal spot in Cornwall. You can visit for the day or take in a show in the evening. Productions range from West Side Story and Romeo & Juliet to On The Rzzle over summer, so there's bound to be something that takes your fancy. Dates vary, see www.minack.com for more info.
Illyria
The alfresco theatre pros at Illyria have been touring open air productions at some of Britain's most gorgeous locations for close to 20 years. This year, the theatre company are taking Pride and Prejudice, Romeo and Juliet and James and the Giant Peach on the road, stopping off at Bolton Abbey, Cawdor Castle, Bristol Zoo, Corfe Castle and Winchester Cathedral among countless others. Dates vary, see www.illyria.uk.com for more info.
The Tempest at Cardiff Castle
The Lord Chamberlain's Men pitch up at Cardiff's open air theatre set in the castle grounds with their all-male version of The Tempest. The show is part of Cardiff Festival 2010 (July 1-Sep 4) which takes in free alfresco events, music, comedy, theatre and more. Jul 1-2, www.cardiff-festival.com
more blog posts