Win A London 2012 Olympic Guided Tour

The world's greatest sporting event is just a few weeks away. To get you into the Olympic spirit, Essential Travel is giving away two spots on a tour of the London 2012 sites with Tour Guides Ltd.
How To Enter
To win an Olympic Walk tour for yourself and a friend, answer the simple question in the comment box below - not in the black pop-up box! Remember to include your email address so that we can contact you.
Name one of the famous London venues where the Olympic Games will be shown on big screens.
Hint: The answer can be found in this month's Essential Travel magazine feature on enjoying the Olympics Without Tickets

The competition is now closed. The winner will be posted shortly.
Read on to find out more about the tour...
About the Tour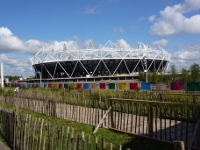 Run by blue badge accredited guides, this tour is the only way to really experience Olympic history in the making. From insights into the background of the bid to the latest news about the athletes, the tour is famous for its captivating exploration of the Olympic sites and the guides' expert knowledge.
The two hour long walk takes you past the Olympic Stadium, The Orbit, Aquatics Centre as well as the Olympic and Paralympic Villages - where the world's best athletes will be staying for the duration of the Games. So enter now to make sure that you don't miss out on this chance to be a part of all the Olympic action.
Terms and Conditions are available here.
more blog posts