How To Make Friends With Fellow Travellers
By: Guest Travel Writer
Published: 22 March 2012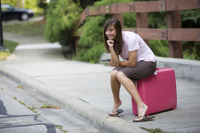 "A journey is best measured in friends, rather than miles."
- Tim Cahill
We'd like to begin by dedicating this to all the monophobics and solomangarephobics out there. We understand being alone or eating solo is enough to scare the travel bug out of you, but bear with us - help may be under the next stone turned.
The Solo Traveller is an archetype of freedom and adventure. Some jump (on a plane, train, boat) at this opportunity. Others equate the terror of travelling alone with the likes of a day at the dentist: something to be avoided at all costs. Regardless of your travel habits, meeting new people is (or should be) an exciting part of any trip. The chance to hang out with travellers from around the world is just one of the many reasons to grab your passport and head for the unknown.
So picture this: you've landed in a country, have grown somewhat accustomed to the strange smells, successfully haggled transport to your lodging, scouted out the surroundings and now find yourself ready to make friends with aforementioned travellers. Go!
Alright so perhaps becoming instant friends with strangers isn't always like a scene from a movie, where you both notice each other reading the same book at the same time and spend the next five hours discussing everything from your favourite music to childhood camping stories. Maybe it takes a couple of handy hints to get your head out of your travel guidebook and in conversation with the real life travellers. We've put together some useful ideas that are sure to have you making friends long before the jet lag sets in.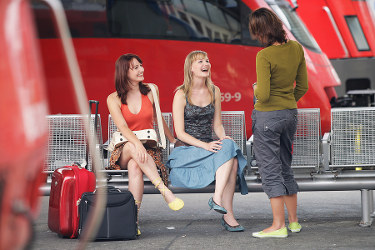 This well-known phrase might just be the key to your blossoming travel friendship. A little shyness is understandable, even workable, but no one likes the new guy who answers everyone's questions, but can't find it in himself to string a sentence together. Conversations are reciprocal, otherwise you'll just be the stranger at the table who makes everyone feel like they're running an oddball outreach programme. And if you're really tongue-tied just stick to these tried and tested travel favourites:
Where are you from?
How long have you been here?
What do you do back home?
Yes thanks, I'd love a drink.

You've made contact with a fellow traveller, only to find that their English is about as good as your Taglish (a native language of the Philippines mixed with English). Suddenly tedious games of Charades become the code for a new secret language. You might feel like you're acting out the lyrics to a children's nursery rhyme, but any English you impart is likely to win you a friend for life (or at least for as long as you're happy to talk in half sentences with over-excessive hand gestures). In an effort to downplay the oratory obstacles of your new friendship, may we suggest an activity such as scuba diving.

Recent studies show that two-thirds of Brits make new friends while travelling. It's not confirmed, but we're assuming the one-third solo voyager group does so by choice and that you'll have no problem buddying up for some unforgettable experiences. There are a few favourable choices you might want to make though, just to up your chances of a friendly encounter.

Choose your accommodation carefully. A five star hotel might offer all the perks, but a smaller guest house or backpackers is likely to be filled with more like-minded people looking to have a good time with fellow travellers.
Tour groups or group activities are a great way to meet people and also offer a safer alternative to you exploring on your own.
The beach, pubs, pool, games room and gym are all great places to meet people. It's important for you to get out and really experience everything the place has to offer, there's no point travelling to a new country, only to sit in your room watching the dusty ceiling fan.

Travellers all have at least one thing in common (and we're not talking about a dodgy stomach from the road-side stalls that sell "The Best Food In The World"). They crave adventure and thrive on new experiences. Meeting fellow travellers is like tasting the local food, it just has to be done. Sure you might be a little shy about putting yourself out there, but what's a little discomfort when it means you'll end up having the trip of a lifetime. We're not saying you need to make friends for life, but you never know when a casual chat with the people at the next table might turn into a boat trip to a secret beach, a couple of days in your new friends' private resort with a personal chef concocting local culinary sensations, or just a funny conversation about how the one guy woke up with a noughts and crosses game tattooed on his rear.

Do you have any interesting travel stories for us? Tell us about them in the comments below and read our article on the Seven Facebook Travel Sins to avoid.

more blog posts