Relentless Freeze Festival 2011
We had the privilege of joining tens of thousands of other skiers and snowboarders from across the UK at the Relentless Energy Drink London Freeze Festival 2011 last weekend. Any trip to the iconic Battersea Power Station is a treat, and when you add an over 30 metre high ski jump it's a recipe for brilliance.

Battle of Britain
We arrived just in time to catch the huge Whitelines Battle of Britain contest. What seemed like the whole festival gathered round to watch the best of British snowsports talent do what they do best in front of their home crowd.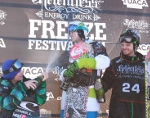 Essential Travel favourite Billy Morgan retained his Battle of Britain crown whilst Dom Harrington took second place in the snowboarding competition, both with outrageous first-day tricks. An honourable shout-out must go to another Essential Travel favourite Scott Penman, who just missed landing his triple front-flip which would surely have seen him walk away with the win in the snowboarding comp. Check out all the action in the video below:
BOB Snowboard Highlights from Freeze Festival TV on Vimeo.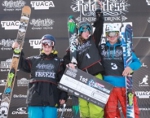 James Woods built on last seasons X Games bronze medal success and won the skiing competition with a huge 9 that really stole the show and blew the others out of the water. Andy Matthew and James Machon rounded out the top three with some similarly impressive spins. All the top 3 tricks are available in the video below:
BOB Ski Highlights from Freeze Festival TV on Vimeo.
The Music
Freeze once again put on an audible showcase to rival any music festival and definitely fulifilled the promise of being "London's biggest après ski party". With massive performances from The Streets, Groove Armada, Rizzle Kicks and Beardyman to name just a few it really was a treat.
The London Freeze Festival 2011 was simply the best yet; the countless smiles of people watching what they love is inspiring and with stunning performances on and off the snow, the Freeze Festival surely can only continue to get bigger and bigger. We'll be keeping a close eye on the booming London Freeze Facebook Community and booking our 2012 tickets as soon as they're released.
Thanks Freeze!
more blog posts