World Record Easter Egg Hunt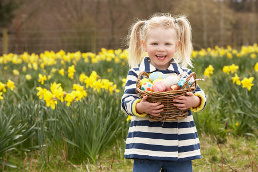 If you've ever thought of visiting London, 2012 seems to be the year to do it. With Diamond Jubilee celebrations taking place in June and the Summer Olympics beginning in July, Londoners have a lot to look forward to. But even if you're in London now, there are treats to entertain during Easter. This is because in the weeks leading up to Easter, London is the playing field for what may end up being the largest Easter Egg Hunt the world has ever seen.
Fabergé Big Egg Hunt was launched on the 21st February and is a mixture of great design and altruistic purpose. Scattered around London are over 200 fiberglass eggs, each of which stand at 2½ feet tall and were designed by famous artists, jewellers, actors and architects. People who join the egg hunt are given zone maps and are required to either text the secret code-word for each egg or check into relevant locations on Facebook, to stand a chance to win a Diamond Jubilee Egg valued at over £100 000. Not a shabby prize! But everyone is a winner as proceeds from auctions of the eggs and entries from contestants will go to good causes.
On the 20th of March, 31 of the 209 eggs were auctioned for charity in front of London's elite at a banquet held at the Royal Courts of Justice. The auction managed to raise £667 000 for two charities, Action for Children and Elephant Family. The favourites were an egg by British sculptor Marc Quinn, which sold for £40 000 and an egg designed by architect Zaha Hadid that sold for £45 000. A Guinness World Record was broken at the event when a chocolate egg weighing in at 50kg sold for £7000, making it the most expensive chocolate egg ever. The eggs that remain are being auctioned online and those bids will close at 5pm on the 9th of April.
The fun is not over though with a Guinness World Record for the most participants in an Easter Egg Hunt still up for grabs. It's not too late to join the egg hunt and help the effort. What's more, if you're in London in the upcoming week, head over to Covent Garden between the 3rd and 9th of April to see the eggs displayed together.
more blog posts