Los Angeles residents woke up to giant monkey prints on Santa Monica Beach earlier this month. The tracks, belonging to none other than King Kong himself, started at the water's edge and went, literally, through Dodger's baseball stadium.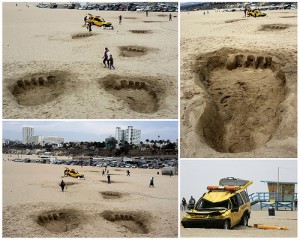 The publicity stunt by Universal Studios was to build hype around the 4th of July opening of their new King Kong ride. This coming weekend, while, at times, the most annoyingly patriotic country on earth goes bananas on Independence Day, the King Kong Theme Park ride re-opens to the public.
The new ride, designed by Academy Award winning director Peter Jackson, is going to be a sensory bonanza. Not only will you see the terror and beauty of Kong in 3D, you'll be able to literally smell his BO and feel the breeze as he swings over your seat. This new 4th dimension is an added improvement from the original King Kong ride that burnt down in 2008, during a freak cylinder fire.
more blog posts