Kaz Willmer - Turning a Passion for Snowboarding into a Living
By: Dan Baker
Published: 24 October 2012
Kaz combines writing, blogging and travelling the world to indulge her passion for snowboarding, with a full time job teaching literacy to offenders. We caught up with her to find out just how she got into it and what's next for her.
Essential Travel: Kaz, can you tell us about how you got into writing about winter sports, and what publications you write for?
Kaz: I used to want to be a children's TV presenter and did a load of work experience at CBBC and the Disney Channel when I was younger. At the end of my gap year, a week's work experience at the Extreme Sports Channel turned into a three month placement, working on their Legends of the Extreme project. They were really pleased with the content I was writing for their site and I realised I preferred the researching and writing to presenting; at least I could read what I wanted to say before I said it!
Since then I've been lucky just contacting people, telling them what I do and getting in touch with contacts of contacts who have really helped me out. I wrote music reviews for three years for BBC Berkshire, spent two summers as harvest reporter for Farmers' Weekly, six months writing for food industry websites, and then three years as assistant editor of a ski magazine, where I built up my contacts in the Snowsports industry. Winter has always been my biggest passion, so it was incredible to be writing about something I love; even with super long hours and having to learn a lot under pressure, very quickly.
My endless winter dream came true in 2009 when, through a contact, I ended up in New Zealand running the PR for several ski resorts. I'd still be there if my visa hadn't run out, but my bank account wasn't happy with me chasing winter, and I realised I needed a stable job again; so I fell into teaching English to offenders to fund my snow habits.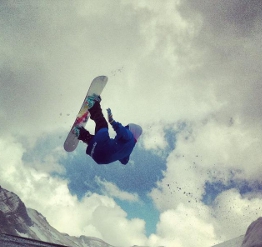 Doing my PGCE while working full time, writing full time (before work and into the night) while still trying to train for winter, has been tough and I found myself writing assignments on the floor of airport terminals or station concourses around Europe, but it's paid off. I know I have money coming in each month, have seven weeks paid holiday a year to take through winter and have built up a stable base of contacts who help see me through it. I now write for GoneBoarding, Natives and Boardstylist on a daily basis, and represent those companies at industry and consumer events. But I also freelance for some of the core snowboarding magazines and travel sections of newspapers.
Essential Travel: Do you have any advice for anyone wanting to write to fund their passion for a sport?
Kaz: The main thing is to build your contacts. It takes a while, but once PR companies and magazines trust what you do, they'll invite you back to events and trips. You're not going to win everyone over, but having a few key contacts will really help you.
You also have to have something else to fall back on. I know plenty of writers who have bar and supermarket jobs, just so they know they can pay their bills when the season is quiet. Going freelance was possibly one of my best decisions, as I'm stable financially, so can just write to enjoy it now, rather than because I have to. It makes my writing better as the aim is to share my passion, not to pay my rent.
When I'm 50, no one is going to want to hear my snowboarding stories as it's a young sport, so I can just keep the passion going as long as it lasts and know I can take a step back or find another direction in the future.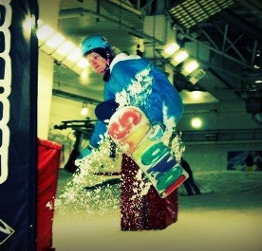 Finally, all sports industries are small, so don't expect to get everything at once; there are very few jobs out there at the top. The best thing to do is start with free writing work to build up your contacts. You can also get yourself known in the industry, such as through volunteering at events. It means PR companies and events companies begin to recognise your name; plus you have fun at the same time, meeting some of your sporting heroes, while giving something back to your industry.
It can be frustrating at times, such as when articles are dropped, or industry politics means you can't write what you want. It has taken me years and a lot of late nights/early mornings to just get this far, but when you see something that you've put so much into in print with your name at the top, there's no better feeling and you know it's worth it. As long as you still enjoy what you're doing and your heart is in it, then you'll see through the difficult times and make the right choices.
more blog posts