Essential Travel with Jenny Jones
By: Clayton Truscott
Published: 20 October 2011
The countdown to this year's Relentless Freeze Festival is upon us. Next weekend, 28/29 October, Battersea Power Station becomes an international arena for the best skiing, snowboarding and music acts to do their thing in front of thousands of frothing fans.
Bristol native and Relentless Energy Drink Athlete Jenny Jones is going to be at the Relentless Freeze Festival this year, unfortunately as a spectator, as she is resting up. Not only is she the brightest and most decorated snowboarding prospect to ever come out of the UK, she's won big events in front of massive crowds before - several gold medals at the Aspen X-Games, to name drop a few. So come down and show her some support for the big season up ahead.
Leading up to the big weekend, we caught up with Jenny to pick her brain about everything from her favourite tricks to her music of choice for getting herself in the zone to do big airs.
Essential Travel: How long have you been boarding for?
Jenny Jones: I've been snowboarding just over 10 years now, I guess I started when I was 18/19 and did a few seasons. I was meant to go to University but I guess I got too hooked on the mountains.
Essential Travel: So where's your favourite place to board?
Jenny Jones: I've got a soft spot for Morzine Avoriaz, although it doesn't have epic parks or anything, it has a mini park and great powder riding and tree runs and things, so deep in the winter I love going there. I also really like Colorado; that has some great spots for park boarding.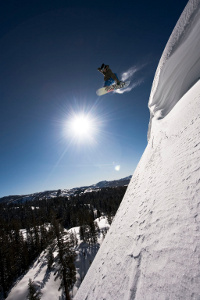 Essential Travel: At the moment you're resting up, but mid-season when you're fit can you give us a day in the life of Jenny Jones?
Jenny Jones: Okay, day in the life, just a regular day; I'd get up, maybe have some porridge, and then head out to the slopes. Depending on if it's dumped we'll go free-riding and try and find some fresh tracks and if it's just a regular day I'd probably just head to the park and get myself warmed up on the small jumps, then head over to the bigger ones and try and learn some new tricks or perfect some of the ones I've been working on. I guess usually in the afternoon I'd have a rail session or something, again in the park and just hang out. That'd be it really, head home, get some food, do a bit of stretching, maybe watch some movies and then get ready to go again!
Essential Travel: Any tips for beginners? Specifically those who have never snowboarded before?
Jenny Jones: Buy some butt-shorts, that'd be my one tip! You don't want a bruised bum, once it's bruised you can't do much about it. But yeah I'd say have fun, go and enjoy it, get involved and don't be too hard on yourself in the beginning, it is a bit of a struggle but you'll get there.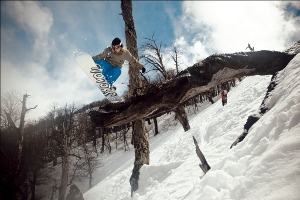 Essential Travel: So what would be the essential item you'd never leave without?
Jenny Jones: Probably if I'm going to the park, a helmet. That would be something I would always take with me, again also my butt shorts and apart from the obvious like your snowboard and things like that. I think that'd probably be it really.
Essential Travel: Okay a couple of quick ones for you; Speed or Air?
Jenny Jones: Air, might need a bit of speed to get the air but yep, air.
Essential Travel: Favourite trick?
Jenny Jones: Backside 180 tailgrab - when I do it well it feels so nice and I think that's why I like it.
Essential Travel: How long did it take you to learn that one?
Jenny Jones: The thing is it's not that hard, it just feels so nice and looks really stylish, so yeah, I have got bigger tricks in my bag, but that's the one I like.
Essential Travel: Favourite song to board to?
Jenny Jones: Oh god, I don't know if I have a favourite song. I do like a few Kings of Leon tracks, erm I like funk really, funk and soul, but I don't have a special particular song.
Essential Travel: Favourite cartoon character?
Jenny Jones: Ow, these are good questions, damn I wasn't ready for them! Cartoon character; Donald Duck, he's pretty cool. (Jenny then does a really good Donald Duck impression)
Essential Travel: And if you could do one run for the rest of your life, which would it be?
Jenny Jones: It would probably be one of the ones in Val D'Isere actually, up the Funicular. You can then actually get all the couloir, a park and that world cup downhill run, all in one. That's pretty good.
Essential Travel: Thank you very much for your time Jenny, best of luck for this season!
Jenny Jones: Thank you very much, best of luck too.
more blog posts