Interview With Travelling Foodie And Gastronomic Guide: Ann-Marie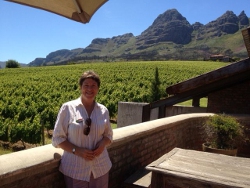 She's travelled to over 60 countries, her appetite for good food growing all the way. Although she insists her own travels are not just in search of food, she believes foodie tours bring an authenticity to travelling. Essential Travel (ET) interviewed Ann-Marie, of Taste the Cape Travel and Tours, who offers customised tours - in Southern Africa - for lovers of food, drink and all things merry.
ET: How would you define a foodie?
Ann-Marie: For me, a foodie is someone who really wants to dig into the corners, see what's out there and see what people are doing. They observe trends - I like looking at the trends. From a publishing perspective, food photography and styling has really changed from the books and magazines of 20 years ago, it's amazing and this complements foodie culture.
ET: How do you think a culinary focus makes for a special travel experience?
Ann-Marie: It's a sociable thing - sharing in something so universal: food. I also think the whole approach to food has changed. There's a lot more awareness of food - it's the unique combination of ingredients and the quality of food.
ET: Do you plan your tours from beginning to end?
Ann-Marie: I often get to know people by email beforehand and tailor the tour up to a certain point. People change their minds and as a guide you have to think on your feet. Nothing is set in stone and I like to work with what people really want to do. My site's sample tours give people a good idea of what's on offer.
ET: What are some of the foodie experiences you offer on your tours?
Ann-Marie: Home-dining: It gives people an opportunity to enjoy the food and ask the questions they feel they can't ask in restaurants. Although it's not the norm, people still like a home-from-home experience. It offers more intimacy - you make friends and find out more about the place. Cooking holidays: A cooking experience with great chefs in homely training kitchens at great locations with magnificent views.
ET: What are your thoughts on street food vs fine dining?
Ann-Marie: There are so many possibilities, experiences are very different worldwide. People who want to eat at really good places usually know where they want to go before they leave home, but it's the ones who want to know what the locals eat that will have a more unpredictable experience. But both are foodies, just different.
ET: What's your advice to travelling foodies? Ann-Marie: Go off the beaten track. Be open to everything, try (almost) everything and listen to the locals. Markets are a good way of getting to know the local produce. Market culture brings a sense of community that's accessible to you as a tourist. And, of course, get yourself a great guide!
For foodie tours in Southern Africa, visit Taste the Cape for more details.
more blog posts