Interview With Belen Tovar - Galapagos Safari Camp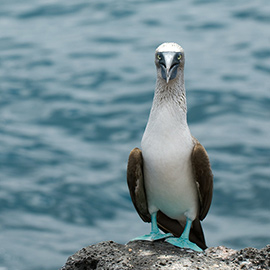 The August Edition of our Magazine features Adventure Travel, and all kinds of interesting places to go and things to experience. One of those is the Galapagos Safari Camp (GSC), which combines luxury travel with the exhilarating feeling of being close to nature.
Bordering the Galapagos National Park in the highlands of Santa Cruz, the unusual camp has some impressive facilities, including a main lodge, luxury tents, a family suite and an infinity pool. Of course, all of this may be found in places around the world. But what makes GSC so alluring is the island's unique wildlife - and if you stay there, you'll get to experience it first-hand.
Essential Travel had the privilege of interviewing Galapagos Safari Camp's own Belen Tovar, to find out more about life in the Galapagos, and the incredible experience they offer.
Essential Travel: Firstly, what is it like working in such a beautiful place? Do you ever feel a bit strange when you go back to Quito after being in the highlands for a few weeks?
Belen Tovar: For many years I worked for a large DMC (Destination Management Company) in Ecuador, so you can imagine the changes I had to go through when I started working at GSC. The peace and quiet - even during our busy periods - watching a wonderful sunset everyday and seeing finches at my window made such a difference. Getting back to real life is always tough now.
Essential Travel: The Galapagos Islands offers visitors a look at the highlands of Santa Cruz. What is it about this place that makes it so special?
Belen Tovar: Well, most people think that visiting the Highlands of Santa Cruz is just a day excursion - pass through, visit the tortoise reserve and then continue on - but a few people, the ones who choose to stay with us, can enjoy the real magic of the Highlands. With our location, finding tortoises passing along the camp, or having Galapagos Owls visiting you at the tent veranda, or even just seeing the clear skies at night is an everyday experience. It's a very special place.
Essential Travel: What trips or safaris would you recommend for people who want to see and get close to animals of the Galapagos Islands?
Belen Tovar: Well, all the islands are completely different and offer a different kind of wildlife. The center islands offer an experience of what Galapagos really is, and the opportunity to see the iconic animals of Galapagos - the giant tortoise, Blue Footed Bookies, Sea Lions, Galapagos Penguins and of course the vast marine life. The best places to see these animals would be Santa Cruz Island, North Seymour, Santa Fe Island and Bartolome.
Essential Travel: The luxury tents at the Safari Camp look really cool. Are they comfortable - or is it like regular camping?
Belen Tovar: It's not like regular camping at all. Our tents are really comfortable and spacious. It has an en suite bathroom, toilet facilities, a shower with hot and cold water and a bed. Basically all the amenities you'll find in a hotel, except it's in the middle of this quiet paradise surrounded by nature.
Essential Travel: How important is sustainable tourism and conservation work to a facility like Galapagos Safari Camp?
Belen Tovar: Galapagos is a fragile ecosystem, and because of that we all are committed to the preservation of the islands. We work in conjunction with the community, offering them employment, training and support. Only once all that has been done do the tourism activities come in. The three main factors; nature, community and business always have to work together.
Belen Tovar: Some of the sustainable efforts of the camp are dedicated to:
Water: The camp is 90% self sufficient in terms of water use. We have a rainwater collector system that provides water to the entire camp for toilets, showers, farming, etc.
Earth: We have devoted around ten hectares on the reforestation of endemic species.
The community: Our commitment is with the local community of Santa Rosa, so we have around 70% of our staff coming from this area and we support local businesses by buying from farmers. We also give economical support to local schools when possible.
All we can do is work as hard as possible to preserve our environment for future generations, support the community and grant our guests the holiday of a lifetime.
Essential Travel: Thanks for your time and all the best!
Belen Tovar: Thank you!
more blog posts