Easter Around The World
By: Zoe Harrington
Published: 25 March 2013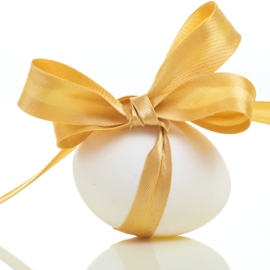 The thought of a long weekend, eating chocolates and feasting with family makes me very excited for this mini-break to come. While my traditional Easter involves Egg Hunts and the Easter Bunny, I was fascinated to learn of the diverse customs around the world. Here are five countries that have a rather interesting way of celebrating Easter.
Haiti
Haiti celebrates Easter with parades and music. A large number of Haitians are Catholic, while another large portion of them practice Voodoo as their religion. The two religions combine for the last week of Lent, known as Holy Week, as the citizens take part in parades and enjoy "Rara" music. Rara music is practised to celebrate Voodoo culture and also to pay respects to ancestors. The music in the parades is usually played on drums and bamboo trumpets, and some chanting is involved too. Animal sacrifices are also included in the celebrations at times. So if you're in Haiti during Easter, don't miss the festivities - definitely a far cry from Easter Bunnies and chocolate.
Switzerland
Easter celebrations here are little easier to identify with thanks to Switzerland being the land of chocolate... the rest of the traditions are purely Swiss though. Traditionally, a cuckoo bird brings the Easter Eggs. Then on Good Friday, two statues are marched through the streets - one of Christ and one of his mother, Mary. Swiss parents also take part in a fun game with their kids called Zwanzgerle, which involves adults trying to break the children's eggs with a 20 cent coin. If they're unable to break it, the kid gets the coin and the egg - a double Easter treat and a nice way for them to collect a little pocket money over the long weekend.
Mexico
Mexico enjoys celebrations throughout Holy Week, or Semana Santa, specifically hosting elaborate passion plays. Also during this week, as part of a superstition, locals hang beautifully woven palms outside their front doors to ward off evil. The biggest Mexican Easter celebration takes place in the small town of Iztapalapa (just a few miles from Mexico City) - where some 450 locals take part in the passion plays. The plays started in 1833 and depict moments from biblical times such as The Last Supper, The Crucifixion and The Resurrection. These plays attract over one million visitors each year. If you're in Mexico at Easter, it's a great opportunity to dive into the culture and history of the country.
Germany
After a cold winter, Germany is not only enthusiastic about Easter, but also uses this time to welcome back the much anticipated spring season. Food plays a major role in the festivities, such as green dishes on Maude Thursday - a very specific green soup made from only green ingredients such as leeks, parsley, peas and herbs. Fish and lamb feasts are also part of Easter in Germany. Easter Sunday brings crowds of people together around huge bonfires - a tradition originally started even before the birth of Christ to welcome spring and get rid of bad omens. People visiting Germany this time of year won't fail to notice the many Osterstrauch all over the place and in the windows of homes, as well as in locals' front gardens. An Osterstrauch is an Easter Tree, similar to the Christmas Tree, except it's decorated with hollowed out eggs that have been coloured and decorated.
Sweden
Prepare yourselves for a completely different Easter if you happen to be in Sweden. The Swedish believe that on Easter Eve and Easter itself, witches fly on their broomsticks to Blockula - a mystical meadow that can only be accessed by flight. Legend has it that they go there to meet the devil - not exactly the chocolate and bunny story we're accustomed to, is it? Children dress up as hags and witches by wearing old, torn clothes, long skirts and red painted cheeks. They then partake in a trick-or-treat type of custom where they go to people's homes with drawings and paintings in exchange for sweets. It's likely to feel more like Halloween than Easter if you're celebrating it in Sweden.
Do you have any unique Easter traditions? Let us know in the comment box below.
more blog posts