A very British heatwave
By: Guest Travel Writer
Published: 01 July 2009
Tags: news
Yes, it's hot. Hot hot hot. So hot that shops are closing (see image below), play at Wimbledon hasn't been suspended and... the Met Office is being really pedantic.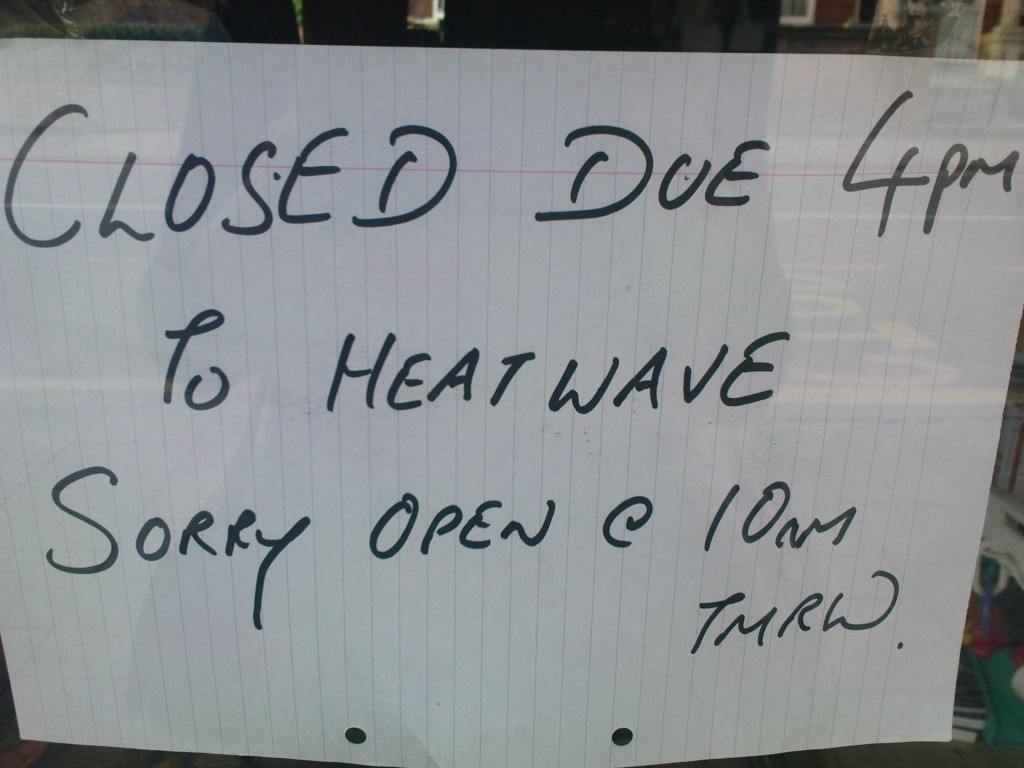 It's introduced a new service, with the Department of Health, called the Heat-Health Watch which ranks the hot weather in four, colour coded levels (parts of the country are already on amber alert!).
Green - No severe weather
Yellow - Be aware Amber - Be prepared
Red - Take action
These levels relate to 'temperature threshholds'. For example, in London the threshold is 32° during the day at 18° at night. If these temperatures are reached on at least two consecutive days and the intervening night they 'could have significant effect on health' (red!). Interestingly, in the north east of England these thresholds drop to 28° and 15°- perhaps they're not as good as handling the heat up there?
In fairness to the Met Office, the Heat Health Watch is designed to protect the vulnerable (elderly, young children, chronically ill). But, with the service perilously close to declaring the UK a red zone, I reckon we all need a little cooling down...
Avoid exercise...
Unless you're lifting a cool drink to your mouth, strenuous movement is not recommended. Definitely avoid outdoor activity between 11am and 3pm (the hottest time of day) and, if you must put the rest of us to shame, stick to an air conditioned gym.
Drink water and eat salt...
We sweat when we're hot, losing water and salt. Stay hydrated and have a bit more of both if you're spending time outside... probably not together though.
Wear a hat, suncream and glasses...
All three will avoid nasty burns - yes, your eyes can burn too!
Wear airy clothes...
This doesn't mean strip down. Just wear loose fitting clothes in light, breathable fabrics.
more blog posts