SaveMoney Series: Cheap Foods For Backpackers
By: Gugulethu Hlekwayo
Published: 09 December 2011
Apparently the price of a Big Mac is one way of judging a foreign country's exchange rate against the US Dollar. When you're backpacking in a foreign country you'll find that even a Mac can be a luxury (especially in Norway where the Big Mac is $8.31 compared to Britain's $3.89), so it's good to know how to feed yourself on a tight budget - especially when you're on starvation rations and you have to prioritise the party down the street. We've collected a few food tips from around the office that will carry you over the festive season. Bon appetite!
Noodles (everywhere, but particularly Asia)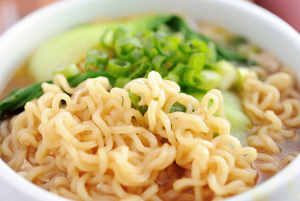 Instant Noodles are easy to make and with a range of flavours you can eat them all week, but on holiday you should preferably sample the local varieties. In India and Sri Lanka try Idiyappam, made from rice flour, and in Korea try Kalguksu - made from wheat flour and eggs. But Japan is the home of noodles with at least six types, and Ramen vending machines everywhere. Remember not to throw out the broth; it makes a savoury hot drink.
Bunny Chow (South Africa)
Backpackers in South Africa, especially Durban, must get the megameal that is a Bunny Chow (or 'ikota' - meaning: a quarter). Spicy broth in a carved out quarter/half loaf of bread. Enough to feed a family and cheap enough to pay with just coins. If you're in Cape Town a Gatsby is the equivalent meal. A roll just stuffed with chips and whatever else can be shoved in.
Bratwurst and Chips (Germany)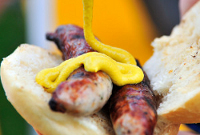 The Germans are obsessed with their sausages and Bratwurst is the cheap local type that comes in many regional varieties from: Fränkische Bratwurst (from the Franconia region) to Rote Wurst (from the Swabia region) to Thüringer Rostbratwurst (from the Thüringer region).
Falafel (North Africa and Middle East)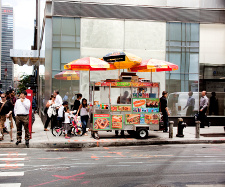 Healthy and cheap is a rare combination, but then Falafel is no ordinary snack. The deep fried balls of chickpeas are the national dish of Egypt. Unlike most fast foods vegans, vegetarians and other recovering meat-eaters can enjoy this delicacy too.
Hotdog (New York)
The New York hotdog vendor is as much a fixture of the city as the Statue of Liberty; every street corner has a cheap on-the-go meal for you. Yes, the home-made hotdog is cheap and easy to make, but you really should do the New York thing and try the street variety.
If you literally have a wallet full of just coins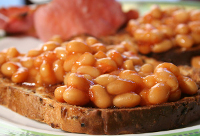 Baked beans, rice and eggs (boiled). These are the rock bottom staples that are essential to surviving December and broke January. Either eaten alone (if things are really bad) or as part of a meal, they make a filling feast that would make Scrooge proud.
more blog posts