Comment and Win A Windsurfing Taster
By: Gugulethu Hlekwayo
Published: 20 July 2011
Tags: competitions
* Essential Travel would like to congratulate 'Donna Sb Bailey' for her winning entry! Thank you so much to everyone who left captions for us to read. We hope you had fun and keep reading the blog for more articles, competitions and travel news.
Aztec Watersports in Lower Moor, Pershore is offering our readers a tantalising taster of the wonderful sport of windsurfing. Part sailing, part surfing, this IS the coolest way to slice the waves - ignore what the jealous surfers may say. Windsurfing harnesses the power of the ocean and the wind for an exhilarating all round experience.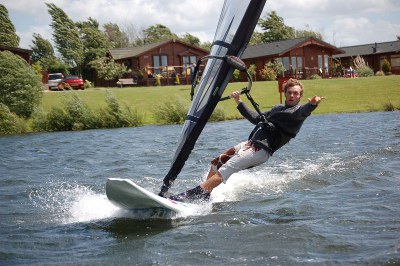 Aztec runs their courses on a shallow spring-fed lake, with just the right amount of wind for the learning windsurfer. The family taster course involves learning how to get on the rig and basic skills - like sailing across the wind and turning around. Just enough to get you on your way to becoming master and commander of the waves (ok, maybe just a good windsurfer). The course is great for a family getaway. Windsurfing is safe for children to try out, although adults might find falling over repeatedly embarrassing.
To enter the competition and win the family windsurfing taster course - worth £90 - fill in the caption for the image below.
Competition closes at 12pm on the 5th of August, 2011 (Competition has closed!). Prize must be claimed at Aztec Watersport before the end of October 2011.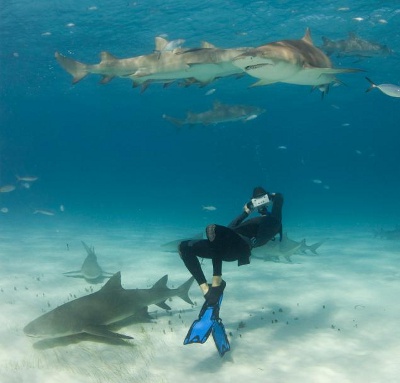 Example:
Who let the sharks out...flap flap, flap flap
If you can top this lame effort write your own caption in the comments section below.
Aztec caters for all types of watersports. See their website for more information here. Stay tuned for our Top 10 Watersports weekends countdown coming soon.
Full terms and conditions are available here.
more blog posts