Hassle-Free Travel Through Airports
By: Guest Blogger
Published: 09 October 2012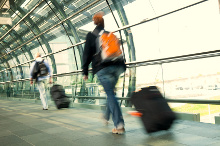 Catching a flight
Getting through airports can often be a nightmare. Airports are becoming busier by the year, security is tightening, and to make matters worse it seems that staff cuts are rife due to the current state of the economy. Ideally you want to be in and out of the airport as swiftly as possible; no fuss, no stress and most of all - no problems. Here are a few ways to get on your flight quickly and effortlessly.
Before You Leave For The Airport
There are a couple of things you should always do before even leaving for the airport. These are things many people may let slip from their mind, but are very helpful to remember.
Check your luggage: This can be a big timewaster. You don't want to be held up going through security because you bought something you shouldn't have. Check Directgov for a concise list of what is allowed in hold and carry-on luggage.
Utilise online check-in: Check-in online before your flight. This is especially helpful if you are only travelling with hand luggage. Do this, and you'll eliminate yourself from an often lengthy wait.
Documents: It goes without saying, but bring all the necessary documents (passports, boarding pass, wallet etc.) and keep them in a safe place that is easy for you to access. When it comes to travelling, there's nothing worse than being unprepared before you leave – except realising at the airport that you've forgotten something important.
Check flight details: You don't want your flight to have been delayed or moved forward without you knowing about it. Check the flight details the week and the night before, to avoid missing your flight.
Checking In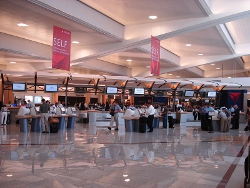 Airport Check-in
Some risk-takers will point to the fact that flights are often delayed to justify checking in as late as possible. These are often the people who run onto the plane at the last minute, with all the other passengers already seated. The rationale is that queuing is a waste of time, so by checking in shortly before check-in closes you can avoid both the queue and waiting for the departure gate to be announced, so time spent in the airport is minimised.
It's true that this can drastically reduce the time spent queuing, the wildcard, however is security, since security services all the flights in the terminal. Just because you've missed the busy period for your flight doesn't mean it's a quiet period for security. It also means that anyone else taking the same risks as you is liable to slow you down – often there will be a 'second rush' just before check-in closes.
Some alternative advice is to get to check-in before it opens - beating the queue from the other end. If you come mentally prepared to spend some time in the airport, you'll be less stressed and better prepared than the majority of travellers.
TSA Pre-Check
TSA (Transport Security Administration) Pre-Check is becoming widely used amongst US travellers. Select airports throughout the States now employ this programme that enables members to be fast tracked through security, having been 'pre-screened'. In a country where airport security can often be a lengthy experience, TSA Pre-Check can be highly beneficial for frequent fliers. In most cases, laptops stay in bags and shoes stay on. Find out more information about TSA Pre-Check here.
After Clearing Security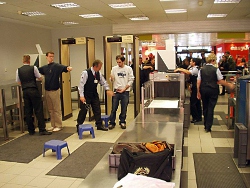 Airport Security
If you've left a suitable amount of time (hopefully you're not so late that you're chasing down the plane) after the much-loved security checks, you will always have some minutes to fill. First, get to the boarding gate. Once there, you can take one of two approaches. The first is to stand around, waiting anxiously to board. The second is to relax with a book, some work, a beverage or watch the planes take off. Your flight is not going anywhere yet, you can't rush through this stage unfortunately, just enjoy all the leg room and let time pass you by.
Speeding through airports is an art, which can however be mastered easily. It's always best to leave a bit of time before your flight in case of emergencies – always try to avoid playing it down to the wire. If you like to speed through the initial checks and security with no fuss, you can always head to an airport lounge to relax before your flight. If you've missed your flight, or your flight has been delayed or cancelled, buying a one day pass is often the best option.
Just for fun…
Thanks to Sixt.co.uk for sending us these tips. What are your favourite tricks? Do you over prepare or prefer to run through? Drop us a comment in the pop-up box below.
more blog posts