The 8 Different Types Of Traveller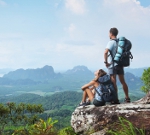 There's no doubt about it - you meet some characters on your travels. From the super-organised to the sun-lounger hoggers, we run through the 8 different types of travellers you will undoubtedly meet on your gap year, career break, or holidays.
1. Uber Traveller
So organised they've highlighted possible itineraries in the guidebook - with this traveller you'll never need to worry about what train to catch to reach the airport on time, where to go for that birthday dinner, or whether or not you'll end up with massive parking charges because they forgot to book in advance. The Uber Traveller will take care of everything, and enjoys doing so. They are the one with the phrase book in their hand, as they haltingly try to order egg and chips for five in Norwegian. If you're travelling with an Uber Traveller, don't forget to show your appreciation for all that they do.
2. Desperate Traveller
Our Desperate Traveller may have highlighted their guidebook too, but you'll find almost every page is pink, orange or yellow. Desperate Traveller wants to do everything and has no idea how they will cram it in, creating crazy schedules that will drive you insane. They will pour over the internet for hours, reading every blogger's views on your destination until they're mentally exhausted. The Desperate Traveller has so much riding on this trip, that you know they're going to be disappointed: nothing can ever live up to those expectations. If you're travelling with a Desperate Traveller, keep reminding them that part of the point of a trip is to relax and enjoy the moment. If they're in charge of the itinerary, ask them to build in rest time, and question them if you really do think they're packed too much in.
3. Foodie Traveller
Every course of every meal is a visual banquet with this traveller, and you will not be allowed to taste one item off your plate until they have photographed it from various angles, and then Tweeted, Facebooked and Instagrammed it (including the obligatory ten minutes to log onto the restaurant's wifi). Conversations revolve around where will you eat tonight, and your daytime expeditions are based looking for possible venues for later. If you're with a Foodie Traveller...well, let's just hope you love food just as much as they do!
4. On-Vacation Traveller
Quite often this is someone with a busy day job who is looking upon this trip as a vacation from everything. This means that they have completely turned off and tuned out and life revolves around pool time, beach time and book time. On one hand you can't blame them - everyone needs some rest and relaxation - but on the other, when it gets extreme, thousands of partners around the globe are left coping with small children, holiday plans or the driving whilst their companion is having the time of their life: a sure fire recipe for resentment. If you're with an On-Vacation Traveller, do chat beforehand about what you'd like from the vacation too.
5. The Chatty Traveller
The Chatty Traveller's trip revolves around people. They'll chat to anyone, from the taxi driver to a stranger who has just sat next to them at the airport. The Chatty Traveller is the one who probably gets the most out of his or her travels, as talking to people is where the adventures truly happen. Who knows who you might meet, or where they may suggest you should visit? If you're travelling with a Chatty Traveller, let your guard down, enjoy the ride and be open to new experiences.
6. The On-a-Budget Traveller
We've all been here. It's great when you can see a place with a bit of cash in your pocket, but, if you're on a budget, you will need to be a bit more creative. The On-a-Budget Traveller is a dab hand at finding out where the locals go to eat, checking out special offers or even organising cheap or free accommodation via sites like Couchsurfing. If you're travelling with the On-a-Budget Traveller and finding it hard, perhaps because you're used to doing it in a bit more style - do remember that you can always go back when you've got a bit more ready cash.
7. The Tech-Savvy Traveller
Forget guidebooks, this traveller has numerous apps for every city on their phone, along with a paid for (cheap) roaming plan already in place, or a new SIM for every country that you visit. Their camera is state of the art - books are so yesterday for this traveller. But, whilst a Kindle may be light, the amount of chargers they will be carrying for all their equipment more than makes up for it. If you're with a Tech-Savvy Traveller...try and learn a few techie tips!
8. The Healing Traveller
This traveller has been through something traumatic -- a bereavement, divorce or redundancy perhaps, and is using their trip to find themselves. Think: Eat, Pray, Love. Expect periods of meditation, trips to spiritual places and lots of treatments and massages. Often referring to it as "finding themselves", they risk others finding them self-centred and feeling left out by this very personal journey. If you're with a Healing Traveller, accept that this is something they feel they have to do. You can share part of their journey with them, but ultimately you will need to give them space.
Now all that's left to ask is...which one are you?
more blog posts