Airport Parking - Lower reduced costs and more flexibility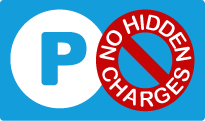 This summer you can book your Airport Parking and not have to worry about any additional costs to your booking. We've also improved our cancellation policies to ensure that you have as much flexibility as possible should you need to cancel your booking.
How have we changed our booking policy?
No credit card fees saving you £1.50 - £4.00 on the price of your airport parking booking
No booking fee
Cancellation charge now only £5 - was £9.50 (saving you £4.50 should you need to cancel your booking, and you didn't purchase the cancellation waiver at the time of booking)
Cancellation waiver now only 50p - was 99p (saving you 49p)
Cancellation notice now only 24 hrs (was 48hrs)
What is a cancellation waiver?
The 50p cancellation waiver, paid at the time of booking, means that if you need to cancel your Airport Parking for any reason, you can do so and you won't be charged a penny.
Without the cancellation waiver, the charge for cancellation is £5 administration charge (was £9.50). You can easily add the cancellation waiver protection for 50p by checking the box marked 'Cancellation Waiver' on the payment details page during booking.
Please Note:
Savers and Super Savers cannot be cancelled.
2 Easy Ways to Cancel your Booking:
Call customer services on 0845 803 5434 lines are open Mon-Fri 9am - 5.30pm
Login to My Account to cancel online 24/7
Find out why Airport parking prices change in our online magazine.