Park Mark Safer Parking Award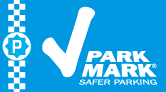 We go above and beyond to make sure that your car is well looked after with safety measures such as the Park Mark Award and our own Security Approved vetting process.
What is Park Mark® Safer Parking Scheme?
To raise the standards of safety in parking facilities, the British Parking Association (BPA) manages Park Mark®, the Safer Parking Scheme on behalf of the Associations of Chief Police Officers (ACPO/S). Park Mark is aimed at reducing the fear and perception of crime in parking areas.
The criteria for Park Mark Awards includes:
Quality management
Good lighting
Effective surveillance & signage
Clean environment
Why are some car parks NOT part of this scheme?
Don't worry if the car park you are looking at isn't Park Mark awarded! The car park may be new and in the process of applying for the award. If the car park is available on our site it has passed our own security standards!
However, the most significant reason could be that the criteria for the Park Mark Award is targeted towards high street car parks and the prevention of crime which may not always be appropriate for airport parking compounds. This is also one of the reasons why we follow our own Security Approved vetting process; just to be extra careful!
Find out more about our own Security Approved process now.