Cardiff Airport Parking
from only £24.99 for 1 week
Save up to 39% on the turn up rate
Quick & easy booking process
Customer reviews available
Cheapest prices guaranteed
Easy to compare Cardiff Airport parking options
3
Cardiff Airport Services
Compare the location of Cardiff Airport's car parks on the map below.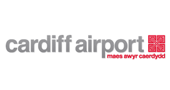 Cardiff Airport Address:
Cardiff Airport
Vale of Glamorgan
CF62 3BD
Sat Nav:
51.39863,
-3.339146
Cardiff Airport Post Code:
CF62 3BD
Click on the blue

markers to access full car park information
Your Parking, Our Expertise
Find the right car park for your needs with Essential Travel's Expert Tips:
No.1
5 reasons to pre-book

Save on the turn up rate
Choose from multiple car parks
Guaranteed best prices
Reserve your space during busy times
Avoid hassle on the day
find out more →
No.2
3 ways to park

Meet & Greet - The easiest way
Park & Ride - The cheapest way
On Airport - The convenient way
find out more →
No.3
Parking prices explained

To ensure you get the lowest prices available you need to:
pre-book early
avoid travelling during busy periods
go away for more than 1 week
find out more →
The small print: Well there isn't any. The price we quote you is the price you will pay. When you book with us there are No hidden fees!