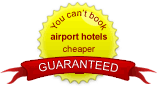 Thistle Airport Hotels
Give your holiday a four-star start with a night at a Thistle Airport Hotel. As an official booking agent, Essential Travel can help you do exactly that with our easy-to-use booking system. Your car can also receive this star treatment with room and parking packages available.
Great value rooms
Rooms with Parking
Quick Transfers
Family rooms
Instant booking Confirmation
Includes:
You won't find cheaper hotels and parking packages guaranteed!
Find a Thistle hotel close to major UK airports for a great night's rest before your trip.
Park your car in the hotel's highly secure car parks.
Online Booking that's safe, secure and easy-to-use.
Port Hotels with Parking:
Back to top
Thistle Hotels
As London's biggest hotel chain, Thistle Hotels are the professionals in providing their customers with the comfort, style and excellent service they need to relax and unwind. So if you live far away from the airport or you just have an early check-in, let Essential Travel help you book your spacious room without any hassle.
Thistle Hotel Room with Parking
Essential Travel gives you the opportunity to include a long term holiday parking spot at the hotel with your room booking. Your car will be expertly looked after by experienced hotel staff for the duration of your trip.
No-Fuss Online Booking
In just 4 simple steps, our online booking system makes reserving your airport hotel room extremely simple. It's also absolutely safe and secure, as we only use the latest in encryption technology.
Our Thistle Hotels
Start your holiday a day early with the following Thistle Airport Hotels and Essential Travel:
The Thistle Hotel is a beautiful four-star hotel just minutes from the airport.
This Thistle Hotel is a superb choice for a relaxing stopover and is only a few minutes away from the terminals.
All the 310 modern rooms benefit from sound proofing and air conditioning, ensuring a relaxing and peaceful stay at this four-star hotel.
Essential Travel Reviews
Essential Travel has been rated 85% by 1551 reviews.