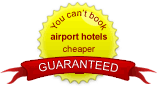 Warmans Barn House at Stansted airport
A renovated 17th century barn house, Warmans Barn House at Stansted airport is comfortable and for adults only: children aren't accepted as guests and the facilities are limited. The only dining option is in the pub opposite and licensing laws restrict admission of minors.
Great value rooms
Rooms with Parking
Quick Transfers
Family rooms
Instant booking Confirmation
Includes:
Warmans Barn House is located adjacent to the airport
Park your car for 8 days at the highly secure on site car park.
You won't find Warmans Barn House cheaper anywhere else.
Port Hotels with Parking:
Back to top

Important Information - Please Note: All guests are asked to show a credit or debit card when they arrive at the Warmans Barn. The hotel will swipe your card. This is nothing to worry about - it's purely as an insurance policy, in case any guest ever caused damage to the hotel, or didn't pay their restaurant or bar bill. The hotel won't keep your details on file - they'll be shredded when you leave.
Warmans Barn House hotel and parking at Stansted airport
Stay at the hotel for one night and receive eight days' parking at the hotel's car park (your vehicle may be moved off site if necessary, at the hote's discretion, additional parking days charged per day).
Hotel Details:
Guests receive eight days of secure parking with a one-night stay at the hotel.
Description:
Located within the perimeter of Stansted airport, the hotel can book taxis for guests to terminal or they can be hailed from the outside of the terminal.
Check In/Out Details:
Earliest check-in at the hotel is at 14:00, with check-out by 10:00. Alternative arrangements are possible, on prior request.
Hotel Facilities:
This renovated 17th century barn house offers all the standard amenities to guests, as well as an unbeatable location within the airport perimeter. The hotel does not accept guests under the age of 18 and there is no restaurant on the premises, but the bar is comfortable and welcoming.
Room Facilities:
All standard guest rooms come with shower, colour TV, tea and coffee making facilities, hair dryer and trouser press.
Restaurant Details:
The hotel is located opposite the Ash Public House, and the restaurant there is open from 10:00 to 21:30.
Breakfast:
Breakfast is available at nearby outlets, but not at the hotel itself.
Room Service:
Room service is not available at this hotel.
Children:
Children under 18 are not accepted at this hotel.
Disabled Facilities:
This older-style hotel doesn't offer wheelchair facilities and in general, isn't special assistance friendly.
Distance:
The hotel is located within the airport perimeter but not within walking distance.
Transfers:
Though the hotel doesn't operate a shuttle, taxis are readily available in either direction. A Transfer costs a mere £4 per person
Directions:
Exit the M11 at Junction 8 then follow the road towards Stansted Airport. Turn left at the first roundabout, then left again towards the airport's Long Stay Car Park. Eventually, you will reach Burton End and here, a thatched pub called the Ash. The hotel is located directly opposite, but you should check-in at the pub.
Parking Packages:
Stay and fly deals include one night's hotel accommodation and eight days parking.