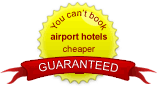 Sofitel Airport Hotels
Spend a luxurious night in one of Sofitel's Airport Hotels located at the UK's major airports. As an official partner, Essential Travel helps you to book your stay easily and quickly - and at an affordable rate.
Great value rooms
Rooms with Parking
Quick Transfers
Family rooms
Instant booking Confirmation
Includes:
Choose from luxury Sofitel Hotel accommodation at major airports
Room and long term parking packages available for your convenience
You won't find hotel and parking packages cheaper anywhere else*
Port Hotels with Parking:
Back to top
Book Your Sofitel Hotel At Major Airports
Sofitel Hotels have become synonymous with French elegance and luxury and are the perfect place for any traveller to recuperate after a long trip, or to relax at the night before a trip. Should you have an early check in time on the date of your flight or simply want to arrive relaxed at the airport, let Essential Travel help you to book your stay at a Sofitel Airport Hotel.
Airport Hotel And Parking
Rather than leaving your car at the airport, we have a more convenient option. One of our hotel packages at Sofitel includes car parking for a period of up to 15 days. Now you can leave your car safely in the hands of experienced hotel staff who will ensure that your car is taken care of while you are away.
Book With Us Online
Booking online with us is a safe and convenient option. Filling in our online quote form with all the information we need will help you to find the perfect hotel room for you. Once you have filled in the form, you will be provided with an updated list of available hotel accommodation.
Available Sofitel Airport Hotels
High standard accomodation, excellent facilities and an easy connection to Gatwick's North terminal.
The Sofitel at Heathrow Airport is adjacent to the airport and offers business and leisure travellers unrivalled comfort.
*conditions apply
Essential Travel Reviews
Essential Travel has been rated 85% by 1551 reviews.