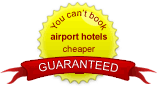 Renaissance Airport Hotels
Whether travelling for business or pleasure, treat yourself to a stress-free and comfortable night near the airport. To secure a Renaissance airport hotel, known for luxury 4-star accommodation at an affordable price, book now with Essential Travel and enjoy a sumptuous stay before you fly.
Great value rooms
Rooms with Parking
Quick Transfers
Family rooms
Instant booking Confirmation
Includes:
Luxury Renaissance Hotel accommodation at Heathrow airport
Room and long term parking packages available for your convenience
You won't find hotel and parking packages cheaper anywhere else*
Port Hotels with Parking:
Back to top
Book Your Renaissance Airport Hotel
Renowned for its elegant feel and customer satisfaction, the Renaissance Hotel chain has become a firm favourite among travellers seeking that extra bit of comfort and luxury. Whether you're flying from Heathrow or Gatwick, indulge yourself before your flight and stay in an upscale, yet affordable, hotel. We'll help you book the best deals to allow for a relaxed night and easy access to the airport, without breaking the bank.
Renaissance Airport Hotels With Parking
Worried about the extra expense of parking your car at the airport? Enquire about our long stay parking option included with some of our Renaissance Hotel rooms. This way you can skip the high airport parking fees and rest assured that your vehicle is secure in the hands of experienced hotel staff until you return.
Book It Online
With our constantly updated list of available hotel accommodation, booking online couldn't be easier. Request a quote at the top of this page and fill in the required fields to receive an accurate and up-to-date price for the hotel you are after. Our user-friendly and simple online system saves you time and helps you to find the right hotel to accommodate your budget and parking needs.
Our Renaissance Airport Hotels
With prime accommodation at two of the UK's biggest and busiest airports, allow yourself the best possible start and book your stay at a Renaissance Airport Hotel.
The Renaissance at Heathrow provides easy access to central London and Renaissance's weekly 'In-The-Know' tourist recommendations.
Essential Travel Reviews
Essential Travel has been rated 85% by 1551 reviews.
*conditions apply