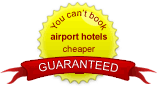 Ramada Jarvis Airport Hotels
Let Ramada Jarvis airport hotels help you recharge your batteries before your flight. With spacious rooms and health clubs available, you'll be able to relax and step onto your flight refreshed and well-rested. Let Essential Travel help you book this luxury service within minutes.
Great value rooms
Rooms with Parking
Quick Transfers
Family rooms
Instant booking Confirmation
Includes:
You won't find cheaper prices for hotel and parking packages guaranteed!
Find a Ramada Jarvis hotel close to major UK airports for a great night's rest before your trip.
Online Booking that's safe, secure and easy-to-use!
Port Hotels with Parking:
Back to top
Ramada Airport Hotels
With hotels conveniently close to major airports around the UK, Ramada offers you the perfect break from air travel with their comfortable three- or four-star accommodation. It is the perfect solution for those arriving or departing very early in the morning or who live far away from the airport. Ramada airport hotels help you get your journey off to a relaxing start.
Book Your Room with Parking
To save you time, Essential Travel lets you book long term parking with your room at selected Ramada hotels. This is the perfect solution for those taking their car to the airport who don't want the hassle of finding parking. You'll be able to catch a transfer to and from the hotel to the airport, while your car is in the care of the experienced hotel staff.
No-Fuss Online Booking
Our online booking system is absolutely safe and secure and lets you book your room and parking without fuss. With just 4 simple steps to complete, it's easier than before to book your accommodation.
Our Ramada Jarvis Hotels
Relax right before your trip at the following Ramada Jarvis Airport Hotels.
Built around a delightful English Garden, this hotel is located only 2.5 - 3 miles from Heathrow Airport.
Enjoy excellent accommodation and an extensive range of facilities in this stylish and modern hotel, located only 3 miles from the airport.
This contemporary, stylish hotel is within 400 yards of Doncaster airport and has all the facilities you need for a great night's sleep and a relaxing break.
Located just 500m from Glasgow airport, this new, chic and contemporary hotel provides you with everything in the way of comfort and convenience.
Enjoy great rates on the Ramada Hotel which is surrounded by acres of landscaped gardens and full of the latest high-tech conveniences and comforts.
Originally built as a rest house, this delightful hotel is nestled in several acres of woodland with all the up-to-the-minute business facilities, a wireless internet service and an elegant restaurant.
Essential Travel Reviews
Essential Travel has been rated 85% by 1551 reviews.