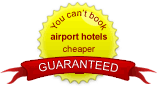 Marriott Airport Hotels
Ensure that your trip starts off with you feeling fully relaxed by booking yourself into a Marriott Airport Hotel. With world-class facilities and staff on hand to help, there is no better place to spend the night before a big trip. Book online and save £s.
Great value rooms
Rooms with Parking
Quick Transfers
Family rooms
Instant booking Confirmation
Includes:
Spend the night in comfort and style
Located close to the airport, Marriott Hotels ensure a a relaxed arrival for your check in
Parking packages are available with your room
Port Hotels with Parking:
Back to top
Be Ready For Your Trip After A Night In A Marriott Hotel
Why not consider starting your holiday a day early? Save yourself the dash to the airport on the day of your trip and feel relaxed and calm by the time you set foot on your plane. Marriott Airport Hotels are the perfect place to relax before a long trip away.
What Marriott Airport Hotels Offer
Marriott Airport Hotels offer a stylish and spacious hotel and a host of other benefits for you to enjoy:
Free WiFi
Hot breakfast buffets
24 hour food and snack market
Spacious King and Double Queen suites
On-site business centre
Close Enough To Make Airport Travel Easy
Marriott Airport Hotels are all within a manageable distance to their nearest airport, saving you the hassle of long transfers. You will be at your terminal in next to no time and ready for check-in, feeling relaxed and ready for a great trip.
Save Time Online
Save yourself the time and hassle of booking your stay at a Marriott Airport Hotel by booking with us online now. We won't only save you time, but money too. Simply begin the process by choosing the hotel you are interested in below and once you've decided if it's the right hotel for you, fill in our easy to understand quote form to check availability and prices.
The Marriott Hotel offers excellent accommodation and facilities - at affordable rates.
The Courtyard by Marriott Hotel offers you a high standard of accommodation and all the facilities you would expect from a leading hotel at Gatwick Airport.
The Courtyard Marriott Hotel is now the Holiday Inn Slough.
The Forest of Arden, Marriott Hotel and Country Club near Birmingham Airport provides a beautiful hotel with only the best quality features, and with the convenience of being located a short drive from the airport.
Make the most of the great facilities at the Heathrow Windsor Marriott including a pool, gym, bar and restaurant - just a few miles from Heathrow!
At Marriott Hotel in Edinburgh, you will get a high standard of accommodation and all the facilities you would expect from a good quality hotel.
A stunning hotel with beautiful decor, the Liverpool Marriott South (now renamed Crowne Plaza Liverpool airport hotel), offers superb dining and leisure facilities.
The Marriott Hotel is famous for its great choice of restaurants and excellent facilities.
The Marriott Metro Centre Hotel at Newcastle airport (NCLMET) provides you with 4-star luxury for a comfortable night's sleep before your flight and is conveniently located, just minutes from the terminal.
Essential Travel Reviews
Essential Travel has been rated 85% by 1551 reviews.