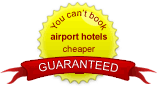 Altrincham Lodge at Manchester airport
The Altrincham Lodge at Manchester airport offers comfortable accommodation in a great location - all for a budget price. Midway between Manchester city centre and Manchester airport, the hotel offers free wireless internet and access to an adjacent rest house.
Great value rooms
Rooms with Parking
Quick Transfers
Family rooms
Instant booking Confirmation
Includes:
The Altrincham Lodge hotel is only 15 minutes from Manchester airport.
The hotel's parking package secures 15 nights car parking with a night's stay.
You won't find the Altrincham Lodge cheaper anywhere else.
Port Hotels with Parking:
Back to top

Altrincham Lodge at Manchester airport and parking
Altrincham Lodge at Manchester airport offers a parking package that includes 15 days' car parking.
Your vehicle can be parked at the secure airport parking lot which is opposite the airport terminal and only 15 minutes drive from the hotel.
Hotel Details:
This hotel's stay and fly package includes 15 days car parking and a one-night stay.
Description:
Located 15 minutes drive from the airport this compact hotel offers guests a good mixture of modern convenience and simple comforts for a budget price.
Check In/Out Details:
Earliest check-in at the hotel is at 14:00, with check-out by 12:00. Alternative arrangements can be made on prior request.
Hotel Facilities:
Wireless internet access is available hotel-wide and the adjacent Pelican restaurant offers meals throughout the day and night. The hotel guest rooms boast fine linen and service is attentive and discreet.
Room Facilities:
Standard guest rooms have free wireless internet, a writing desk, colour TV and en suite bathroom.
Restaurant Details:
The Pelican restaurant is located next to the hotel and serves breakfast, lunch and dinner. It serves up relatively simple fare with good prices. Tables and food can be booked in advance through the hotel reception.
Breakfast:
Breakfast at the adjacent Pelican restaurant can be booked at reception and is charged per person. Alternatively, continental breakfast boxes can be purchased at reception.
Room Service:
Room service is available 24 hours.
Children:
Children under 12 stay at the hotel free of charge (a maximum of one child per room).
Disabled Facilities:
This hotel doesn't offer any special assistance facilities.
Distance:
The hotel is located about five miles and 15 minutes drive from Manchester airport.
Transfers:
A 24-hour complimentary shuttle operates every 15 minutes between the airport and the hotel.
Directions:
Exit the M6 or M60 onto the A56 and follow signs towards Altrincham. The hotel is on this road, about three miles from the main turn off and directly behind the Old Pelican Inn.
Parking Packages (room with up to 15 days parking):
The hotel's parking package secures 15 nights car parking with a one-night stay.