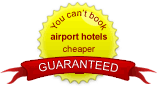 Menzies Strathmore at Luton Airport
You may be in danger of missing your flight if the Turkish bath, pool and Jacuzzi at the Menzies Strathmore seem too inviting. Staff will ensure your vehicle has a reserved spot at Airparks Services at Luton Airport too.
Great value rooms
Rooms with Parking
Quick Transfers
Family rooms
Instant booking Confirmation
Includes:
A newly refurbished sleek hotel located right in the centre of Luton
The hotel is just 3 miles from Luton Airport.
You won't find the Menzies Strathmore Hotel cheaper anywhere else.
Port Hotels with Parking:
Back to top

Menzies Strathmore Hotel and parking at Luton Airport
Start your holiday early by securing 15 days free car parking at Luton Airport with one nights stay at the Menzies Strathmore. Organise this deal online when you make your booking.
Hotel Details:
15 days free car parking with one night's stay.
Description:
This is a newly refurbished sleek hotel located right in the centre of Luton and containing its own well-equipped fitness centre with swimming pool.
Check In/Out Details:
Earliest check-in at the hotel is at 14:00 with check-out by 12:00. Alternative arrangements are possible, on prior request.
Hotel Facilities:
A very well-equipped fitness centre includes a Turkish steam bath and wireless internet is available throughout the hotel and in all rooms for a small charge. The 24-hour front desk can arrange in-house dry cleaning and bookings for business and conference arrangements within the hotel. The Waves Fitness Centre has a swimming pool and Jacuzzi.
Room Facilities:
The hotel's 150 recently refurbished rooms offer a modern and sleek nights stay. Wireless internet and satellite TV is available in all rooms, which also come with a private bathroom with standard bathroom facilities.
Restaurant Details:
The Brasserie Restaurant is open for lunch and dinner and serves award-winning cuisine and offers an international wine list. The hotel bar sells snacks also and is open 24 hours.
Breakfast:
Breakfast is served daily in the restaurant from 07:00 to 10:00.
Room Service:
Room service is available on a 24-hour basis.
Children:
Children under 12 stay at the hotel free of charge (maximum two children per room).
Disabled Facilities:
One guest room has been adapted and this room only offers special assistance access.
Distance:
The hotel is around three miles from Luton Airport.
Transfers:
The hotel offers a complimentary private shuttle service to and from Luton Airport and this can be arranged at the time of booking.
Directions:
Exit the M1 at Junction 10, turning onto Spur Road. Take the second exit at the roundabout towards the airport and turn left at the Green Business Park roundabout. Pass the next two roundabouts then turn off Windmill Road onto St Mary's Road and continue until you reach the shopping arcade car park. You can park here and enter the hotel via the shopping arcade.
Parking Packages (room with up to 15 days parking):
The package includes 15 days free car parking and an overnight stay at the hotel.