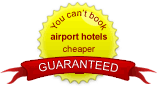 Ibis Airport Hotels
Ibis Airport Hotels are renowned for providing travellers with the perfect place to rest and rejuvenate before their flight. With years of experience behind them, Ibis Hotels are a leading international brand and have over 900 hotels in operation around the world.
Great value rooms
Rooms with Parking
Quick Transfers
Family rooms
Instant booking Confirmation
Includes:
Choose from luxury Ibis Hotel accommodation at major UK airports
Room and long term parking packages available for your convenience
You won't find hotel and parking packages cheaper anywhere else*
Port Hotels with Parking:
Back to top
Book Your Ibis Hotel At Major Airports
With Ibis Airport Hotels, you can be assured that you will be getting the best service for your money. Whether it's for a business trip or a family holiday, give yourself some extra time to feel refreshed and relaxed before your trip and spend the night before a long flight at an Ibis Airport Hotel.
Ibis Hotels are an international chain with more than 900 hotels globally. Ibis Hotels also make a committed effort to sustainable development: you will find your room to be environmentally-friendly while still offering the best in comfort and style.
Book Online Now
Follow our simple online booking process on our quote form and you will be provided with room availability at the airport you will be flying from. Our online system is perfect at finding you the best deal for your money and you can specify whether you require parking or just a room.
Our Ibis Airport Hotels
Our Ibis Airport Hotels offer you everything you need to get your trip off to a fantastic start. Find out more about the hotel closest to the airport you are interested in, by clicking on the names below:
Located directly at the airport, the hotel offers 24-hour service in a comfortable and smart atmosphere. Its fantastic location means that you are only a short walk away from your check in desk.
This hotel gives you a high standard of accommodation and all the facilities you would expect from a top quality hotel. Ibis Hotel at Gatwick is an excellent choice to stay at for an evening of relaxation and preparation for a great trip ahead.
Relax and unwind in style with top quality accommodation and excellent facilities, located only 2 miles from Heathrow Airport.
A stylish and vibrant hotel offering any traveller the ideal place to rest their head. Feel as though you started your holiday a day earlier and spend the night at Luton's Ibis Airport Hotel.
Essential Travel Reviews
Essential Travel has been rated 85% by 1551 reviews.
*conditions apply