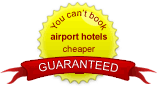 Holiday Inn Airport Hotels
Known for their great service, comfort and value, Holiday Inn Airport Hotels give the traveller the perfect place to rest. As a partner, Essential Travel can help you book your room, with the option of parking, without hassle. Now you can arrive at the airport fully relaxed.
Great value rooms
Rooms with Parking
Quick Transfers
Family rooms
Instant booking Confirmation
Includes:
You won't find cheaper hotels and parking guaranteed!
Find a Holiday Inn close to major UK airports
Park your car in the hotel's highly secure car park.
Port Hotels with Parking:
Back to top
Book Your Holiday Inn Room At Major Airports
As the biggest chain of hotels in the world, you can be sure that the Holiday Inn knows how to make people feel right at home. That's why we recommend them for any traveller who has a long drive to reach the airport or just a very early check-in. Our Holiday Inn airport hotels will allow you to rest before your journey and start it fully refreshed.
Holiday Inn Booking With Parking
After a good night's rest, there is no need to drive your car to the airport for your flight. Essential Travel gives you the opportunity to book a long term holiday parking spot at the hotel along with your room. You'll travel with absolute peace of mind, as your car will be expertly looked after by experienced hotel staff for the duration of your trip.
Convenient Online Booking
We have simplified the booking process to make booking your Holiday Inn room easier. All you need to do is fill in all the required fields in the quote form and our website will display a live updated list of available hotel rooms. Remember to include parking should you require it by filling in the appropriate fields. The room will be yours in just 4 simple steps that save you time and effort.
Our Holiday Inn Hotels
Have a good night's rest at Holiday Inn near some of the UK's major airports with Essential Travel.
Relax and unwind in style with top quality accommodation and excellent facilities.
This hotel is situated conveniently close to the M4 at Junction 4, two miles from the airport. It is smart, modern and comfortable, while remaining family friendly.
Stay at a four-star hotel only 1 mile away from Gatwick Airport and have your car delivered to the airport terminal on your return, taking away the hassle of transfer buses on return from your holiday.
Holiday Inn Express Cardiff is perfectly suited for travellers who prefer to check in for their flight feeling refreshed. Book your stay at this great hotel and you will not regret it.
This plush hotel comes with an indoor pool, a sauna and a full fitness centre and 24-hour room service.
The Holiday Inn is 5 minutes from the Airport and offers comfortable surroundings.
The home away from home - choose from the 80 rooms at the Bristol Airport Holiday Inn that comes with an affordable price-tag.
The Holiday Inn Glasgow Airport is directly opposite the airport terminal. It offers a comfortable stay in relaxed surroundings.
The Holiday Inn Leeds, Bradford Airport is situated in the idyllic setting of the village of Bramhope, only 3km from Leeds Bradford Airport. The hotel enjoys splendid views over the Dales.
This hotel offers a complete leisure centre with a whirlpool, sauna, pool and gym.
The Holiday Inn offers first class service and food and is only a few miles from the airport.
This hotel is located on the outskirts of Southampton and only 2 miles from the airport.
A brand new three-star hotel located just 1 mile from Stansted Airport.
Essential Travel Reviews
Essential Travel has been rated 85% by 1551 reviews.