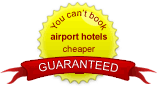 Hilton Airport Hotels
Start your holiday off a day early with a luxurious night spent at one of the Hilton Airport Hotels, located at major airports around the UK. Essential Travel, as an official partner, helps you to make a completely hassle-free booking. With some of the lowest prices around, it's a mini-indulgence fit for most budgets.
Great value rooms
Rooms with Parking
Quick Transfers
Family rooms
Instant booking Confirmation
Includes:
Choose from luxury Hilton Hotel accommodation at 11 major airports.
Room and long term parking packages available for your convenience.
You won't find hotel and parking packages cheaper anywhere else.
Port Hotels with Parking:
Back to top
Book Your Hilton Hotel At Major Airports
With luxury hotels located in some of the world's most visited locations, the Hilton chain is synonymous with comfort and leisure and the perfect place for a traveller to recuperate. So, should you have a long way to travel to get to the airport or an early check-in, we'll help you book a night or two in a Hilton airport hotel so that you can start your holiday off refreshed and relaxed.
Hilton Airport Hotels With Parking
Should you be planning on parking your car at the airport, we have a more convenient alternative available. Some of our Hilton Hotel rooms can be booked with long stay parking included. While you're away, experienced hotel staff will ensure that your car is well looked after and safe until you return.
Book It Online
Simply fill in all the required fields in the quote form at the top of this page and click for our live updated list of available hotel accommodation. Our easy to use online system not only saves you time and effort, but it also helps you find the perfect hotel room, with or without parking, for your budget in no time at all.
Our Hilton Airport Hotels
With luxurious accommodation available at 11 major airports in the UK, your trip can always have the best start.
The Hilton brand has become synonymous with excellent quality, great service and fantastic value for your money. Hilton Heathrow is connected to Terminal 4 by a covered walkway to efficiently get you from your airport hotel, straight to your check in counter with minimal fuss. Book your stay the night before your trip online now and leave for your trip feeling relaxed and ready to face the world.
The Gatwick Hilton is an excellent, high quality hotel attached to the South Terminal.
This four-star hotel is just 900 yards from the Terminals with transfers running throughout the day and night.
Located only 5 minutes from Birmingham Airport, the hotel offers its guest a four-star luxury stay.
A hotel designed and built with the very purpose of providing a fantastic destination for people preparing to fly on their own or with the family.
Located only 5 minutes away from the airport, this superb hotel offers fine dining, comfortable living and a host of other great services for the traveller.
A stylish and vibrant hotel that offers the traveller some of the very best facilities that a modern hotel can offer.
Located only 3 miles from Luton Airport, this hotel is perfect for the business traveller with wall-to-wall wireless internet so you can always stay in touch.
The Hilton Southampton offers luxury and comfort hand-in-hand with ultra-modern convenience and technology.
Relax and unwind with the Hilton Hotel's top quality accommodation and excellent facilities.
The hotel is only 5 miles from the airport and offers the very best facilities for your time away from home.
Essential Travel Reviews
Essential Travel has been rated 85% by 1551 reviews.