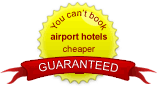 Angel Inn and Lodge at Doncaster Airport
A peaceful retreat in a quaint village setting, the Angel Inn and Lodge at Doncaster Airport is also modern and handy to all nearby locations.
Great value rooms
Rooms with Parking
Quick Transfers
Family rooms
Instant booking Confirmation
Includes:
The Angel Inn and Lodge is situated three miles from Doncaster.
Make the most of the Angel Inn's parking package which offers up to 15 days parking.
You won't find the The Angel Inn and Lodge cheaper anywhere else.
Port Hotels with Parking:
Back to top

Angel Inn and Lodge and Parking at Doncaster Airport
The Angel Lodge is an exciting brand new development of six lodges within the delightful gardens of the Angel Inn close to Doncaster.
Twenty-four hour transfers are available to and from the airport.
Hotel Details:
A good budget hotel with an authentic old world atmosphere despite having only been built in 2004. The Angel Inn and Lodge caters to guests with tasty pub food and traditional style guest rooms.
Check In/Out Details:
Check-in starts at 10:00 and check-out is requested by 09:30.
Hotel Facilities:
The hotel has no business or conference facilities and wireless internet is available at an extra charge.
Room Facilities:
All guest rooms are new and come with TV, tea and coffee making facilities and private bathrooms.
Restaurant Details:
The hotel restaurant offers up hearty fare for lunch (12:00 to 14:00) and dinner (17:00 to 22:00). The hotel is mainly famous for its bar, which serves a huge selection of ales.
Breakfast:
A continental breakfast is included in the room rate but an English breakfast is an additional ₤5.00.
Room Service:
Room service is not available at the hotel.
Children:
The hotel is family friendly and children under 16 stay free.
Disabled Facilities:
All guest rooms are on the second floor and some are special assistance equipped.
Distance:
The hotel is located three miles from the airport.
Transfers:
Around-the-clock transfers are available on prior request.
Directions:
Exit the M25 at the M11 and then turn onto the A1. At the Blythe roundabout, exit at the Bawrty turn off and follow this road into Bawtry until you reach town. Turn left at the Car Auctions garage and then turn right at the Renault garage. The Mission, a church, is signposted and the hotel is opposite the church.