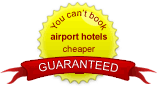 Crowne Plaza Airport Hotels
Choose from 5 relaxing Crowne Plaza airport hotels, located near some of the UK's major airports. Are you looking for guaranteed low prices and great deals on rooms? Look to Essential Travel for easy bookings and affordable accommodation options.
Great value rooms
Rooms with Parking
Quick Transfers
Family rooms
Instant booking Confirmation
Includes:
Choose from 5 options at major UK airports
Room and long term parking packages available for your convenience
You won't find hotel and parking packages cheaper anywhere else*
Port Hotels with Parking:
Back to top
Crowne Plaza Hotels At Major Airports - Book Now
Instead of waking up early to get to the airport and stressing about traffic, why not book a night or two at a Crowne Plaza airport hotel. Relax, unwind, and enjoy the luxurious rooms and amenities that the Crowne Plaza is renowned for - book with Essential Travel and get a great deal too.
Hotels With Parking
Deterred by high parking prices? Why not drive to the airport and choose our affordable parking option when you book your room. It's convenient and economical, with experienced staff ensuring your car is safe while you travel.
Book Your Stay Online
Request a quote at the top of this page to receive an up-to-date price on the room you'd like to book. Once you've made a decision, use our quick and easy online booking system and get instant confirmation, saving you time and money in just a few clicks.
Our Crowne Plaza Airport Hotels
High-standard accommodation at 5 major UK airports
Located close to Gatwick Airport, this hotel features an award-winning restaurant, WiFi access, and a choice of comfortable and well-furnished rooms.
Overlooking Pendigo lake with a recently refurbished glass-fronted lobby, this hotel ensures a stress-free and tranquil night before your flight.
Luxury accommodation serving Heathrow airport. Just 8 minutes from check-in.
Just a mile from the airport, this hotel ensures you'll have a convenient start to your holiday.
Take advantage of the complimentary shuttle service offered at this hotel, which is minutes from Manchester city centre and the airport terminals.
Essential Travel Reviews
Essential Travel has been rated 85% by 1551 reviews.
*conditions apply