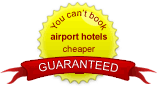 Hilton Birmingham Metropole Hotel
The luxurious Hilton Birmingham Metropole at Birmingham International Airport offers guests all the things they expect from a Hilton hotel. The hotel's business and conference facilities are second to none and the customer service is attentive and faultless.
Great value rooms
Rooms with Parking
Quick Transfers
Family rooms
Instant booking Confirmation
Includes:
The hotel is located 10 minutes from Birmingham Airport
The hotel's Park, Sleep and Fly includes 15 days car parking
You won't find the Holiday Inn Birmingham cheaper anywhere else.
Port Hotels with Parking:
Back to top

Hilton Birmingham Metropole Hotel and Parking at Birmingham Airport
The hotel does its utmost to ensure your safe and convenient transfer to the airport, and offers a free shuttle to and from Birmingham International Train Station.
The Hilton Birmingham Metropole at Birmingham International Airport offers very competitive park and fly deals which offer up to 28 days parking with a one-night stay for two people.
Your vehicle will be kept secure at the hotel's dedicated car park. Details are available on booking or even at check-in.
Hotel Details:
The hotel's Park & Fly deals are very competitive and offer up to 28 days free parking at the hotel car park with a one-night stay for two people.
Description:
Located 10 minutes drive from the airport, this luxury hotel offers all the comforts and conveniences guests have come to expect from the Hilton chain.
Check In/Out Details:
Earliest check-in at the hotel is at 15:00 with check-out by 12:00. Alternative arrangements are possible, on prior request.
Hotel Facilities:
Wireless internet access is available throughout the hotel and wired internet services are provided in the guest rooms. The hotel has three restaurants, a bar, a business centre, a fitness centre and an indoor heated pool.
Room Facilities:
Standard guest rooms are bright and modern with satellite TV and an easy chair for sitting. The bathrooms come with power shower and bathtub. Executive rooms and suites come with more space and internet access.
Restaurant Details:
The Boulevard Restaurant serves the hotel breakfast and then an international buffet for lunch and dinner. Miller's offers a more casual, cocktail menu at its tables while La Primavera is a fine dining restaurant. These three dining options are open for dinner nightly until 22:00. The Lounge Bar operates 24 hours and offers sports TV and a relaxed atmosphere, with some snacks like the Hilton club sandwich.
Breakfast:
Buffet breakfast is available from 06:00 until 11:00 every day and is included in the room rate.
Room Service:
Room service is available 24 hours.
Children:
Children under 12 stay at the hotel free of charge (maximum one child per room).
Disabled Facilities:
All public areas are wheelchair friendly, as are all rooms. Service animals are welcome.
Distance:
The hotel is located 10 minutes drive from Birmingham International Airport.
Transfers:
As a result of security concerns, the hotel is no longer able to operate its courtesy bus to or from the airport. It does, however, operate a free courtesy shuttle to and from the railway station, from where the airport is readily accessible.
Directions:
Turn right onto Concorde Road and then again right onto Vanguard Road, which becomes Airport Way. Take the third exit at the roundabout and merge onto Coventry Road. Follow the signs to the NEC before turning onto Pendigo Way at the next roundabout. The first exit delivers you to the car park of the hotel.
Parking Packages: (room with up to 15 days parking)