Expert Interview with Kaz Willmer
Snowsports Freelance Journalist
Use Your Head caught up with Kaz Willmer to find out more about her and her opinions on helmet use on the slopes. More information on how Kaz got into snowsports blogging can be found here.
The Interview
Hey Kaz, thanks for speaking with us. So how old were you when you took up snowboarding?
I was 18 when I first started to snowboard. I'd learnt to ski in Scotland from about 3 years old while visiting family, and did a couple of ski school trips, but I started skateboarding when I was about 14, so standing sideways was more natural to me! I went to Canada for my gap year, and taught myself to snowboard at the start of the season when the snow was still sketchy, and since then I've been addicted - this will be my 10th winter riding.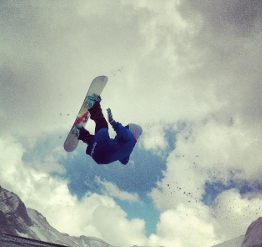 Where did you spend your first season?
In Banff, Canada – one of the most immense places on earth! I'd do my season a lot differently if I went back now – it was with a lot of English gap year students, away from home for the first time, so we drank alot and didn't ride as much as I would now.
I did a season in NZ and a part-season in Morzine but I find now that I dedicate my winters to snowboard training camps and actually get far more slope time doing that, on the mountain early morning through night, every day, than I do on a whole season, when you can just get lazy, hungover and don't have the coaches to push your riding.
Do you wear a helmet?
Yes, always. It's compulsory indoors for freestyle too, and that's definitely a good thing!
Have you ever had a bad accident?
Yes, it comes standard with riding, and I'm currently seeing a specialist shoulder surgeon and sports physio after a bad dislocation last year. But my worst was when a buddy tried to ollie (jump over) the front of my board when we were racing down an empty mountain at night. He caught the nose of my board and I went straight down on the back of my head. I don't remember the next few hours but apparently I still got up, rode to the bottom, passed out on a picnic bench in the dark, and came round in an ambulance. I spent the next week with concussion, passing out or being sick every time I stood up. It's proof that you may not be the cause of your accidents, other people can be too.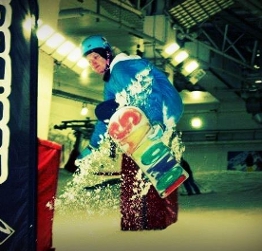 Did the helmet help?
Yes, it had a big crack down the back. That could've been my skull!
What are your opinions on helmet use?
Always wear one. They're getting smaller and lighter now so don't feel or look so big or heavy on your head.