Use Your Head had the opportunity to meet with Jenny Jones, James Webb, Scott Penman and a host of other huge names in the Freestyle circuit.
We got their opinions on the use of helmets and also spent some time filming them out on the slopes doing what they do best ahead of the Freeze Festival. Check it out below:
Jenny Jones - Professional Snowboarder
"There are so many times, people have been riding powder, there is not actually that much powder that they're on, just under the surface is sticking out rocks which you can quiet easily slam on - so you should just as likely wear helmets then"
"Yup, hit my head alot of times, had a few concussions, defiantly had a helmet with a crack in it and had to replace it"
"I have seen friends who have had head injuries and their helmets have defiantly saved them"
James Webb
"I nearly broke my neck a few years back now, came up short on a jump and head hit the floor and flipped over my head. I was wearing a helmet and I cracked it in half so that saved me. I've cracked 3 helmets in half now - definitely worth it"
Mike Rowland
"I have a back protector, sometimes a mouth guard, sometimes padding and definitely always rock a helmet"
"I definitely think it's good they're starting to make it compulsory for younger riders to wear them. It's making the sport safer than it is. Cause it is an extreme sport but accidents do happen but helmets protect you a bit to stop serious injuries from happening"
"You should definitely wear a helmet even if you don't like the feel of having it on, once you're riding with it you just forget that you have it on and it saves lives so that's the main thing"
Gregor Samuels
Gregor, now 17, has been passionate about snowboarding since the age of 8, spending every minute on the snowy slopes near his home in the Scottish town of Grantown on Spey, just 15 miles north of Aviemore. From the very beginning, his parents insisted he and his younger sister wear a helmet for snowboarding, as well as for cycling and skateboarding.
Gregor's dream of being a professional snowboarder came a step closer when he was accepted into the British Freestyle Snowboarding Team. He travelled with the team accompanied by one of his parents; and then in November 2010 he took his first trip away with the team without his parents, to Keystone Resort, Colorado, one of the best snowboarding resorts in the world.
In his first week there, Gregor enjoyed exploring the slopes and working on his style. On 8 December he was practicing a new trick when he fell approximately 15 feet from a jump. He was alone, but the accident was seen by a ski patroller passing on a nearby ski lift who raised the alarm. Within 3 minutes of the accident a first responder arrived at Gregor's side to find him unconscious and fitting.
Immediately airlifted to St Anthony Hospital in Denver, Gregor had suffered a lacerated liver, a fractured pelvis and remained unconscious for two weeks. He doesn't recall the accident, but does remember that day, as usual, he wore his Protec Classic helmet, a spine defender and padded underwear beneath his snowboarding clothes. When he emerged from the coma a month after the accident, he felt no pain.
The first responders at Keystone and the medical staff at St Anthony Hospital agreed that wearing a helmet saved Gregor from more serious injury, and even from death.
Back home in Scotland and thirteen months on, Gregor has undergone an intensive rehabilitation programme including physiotherapy, speech therapy and psychological care. He works hard at the gym twice a week to rebuild strength in his right side and continues with a tough physiotherapy regime. He's been back on the slopes, practicing slides: "it feels great to be back on the snow".
Gregor said: "Wear your helmet, you never know what may happen. They are lightweight, don't obstruct your vision and can help save your life."
"If I hadn't worn a helmet, I might not be here"
SUZANNE SAMUELS, 49
"It could have been so much worse if he hadn't worn a helmet."
"I put my head in my hands at first but within 24 hours I flew 5,000 miles to his hospital bedside."
Mother of two, Suzanne, a 49-year paramedic living near Aviemore in Scotland sees the aftermaths of accidents every day, and as a consequence always insists her children wear helmets while cycling, skateboarding and snowboarding.
Her son Gregor, now 17, dreamed of being a professional snowboarder and spent every spare minute on the slopes near the family home, practicing technique and building fitness. His dream seemed within reach when he was accepted in to the British Freestyle Snowboarding Team and began to train and travel with them.
In November 2010 Gregor went to Keystone Resort in Colorado, one of the top snowboarding spots in the world, and Suzanne looked forward to seeing him again for Christmas after a few weeks of training. On 8 December, while out with an ambulance, she received the call that every parent dreads: Gregor had been involved in an accident 5,000 miles away from home and was unconscious in the intensive care unit of St Antony Hospital, Denver. Suzanne's local community rallied round to sort out work shifts and child care, and within 24 hours she was at Gregor's bedside in Colorado.
"One of the first things the doctors told me on the phone was that Gregor had been wearing his helmet at the time of the accident. Even then, that gave me hope. When I arrived, the hospital staff frequently commented that without his helmet, Gregor would've been in much worse shape. I placed his helmet, which was only scuffed, on his bedside table."
Back home, Suzanne has helped Gregor through the past 13 months of intensive rehabilitation, including physiotherapy, speech therapy and psychological care, and is proud that he has once again taken to the slopes, albeit tentatively: "Without a doubt, wearing a helmet saved my son from more severe injury or worse. The latest helmets don't get in the way, they're lightweight and even trendy. Always wear a helmet, it really can save your life."
Kaz Willmer
Use Your Head caught up with Kaz Willmer to find out more about her and her opinions on helmet use on the slopes. More information on how Kaz got into snowsports blogging can be found here.
Hey Kaz, thanks for speaking with us. So how old were you when you took up snowboarding?
I was 18 when I first started to snowboard. I'd learnt to ski in Scotland from about 3 years old while visiting family, and did a couple of ski school trips, but I started skateboarding when I was about 14, so standing sideways was more natural to me! I went to Canada for my gap year, and taught myself to snowboard at the start of the season when the snow was still sketchy, and since then I've been addicted - this will be my 10th winter riding.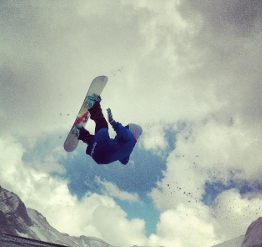 Where did you spend your first season?
In Banff, Canada – one of the most immense places on earth! I'd do my season a lot differently if I went back now – it was with a lot of English gap year students, away from home for the first time, so we drank alot and didn't ride as much as I would now.
I did a season in NZ and a part-season in Morzine but I find now that I dedicate my winters to snowboard training camps and actually get far more slope time doing that, on the mountain early morning through night, every day, than I do on a whole season, when you can just get lazy, hungover and don't have the coaches to push your riding.
Do you wear a helmet?
Yes, always. It's compulsory indoors for freestyle too, and that's definitely a good thing!
Have you ever had a bad accident?
Yes, it comes standard with riding, and I'm currently seeing a specialist shoulder surgeon and sports physio after a bad dislocation last year. But my worst was when a buddy tried to ollie (jump over) the front of my board when we were racing down an empty mountain at night. He caught the nose of my board and I went straight down on the back of my head. I don't remember the next few hours but apparently I still got up, rode to the bottom, passed out on a picnic bench in the dark, and came round in an ambulance. I spent the next week with concussion, passing out or being sick every time I stood up. It's proof that you may not be the cause of your accidents, other people can be too.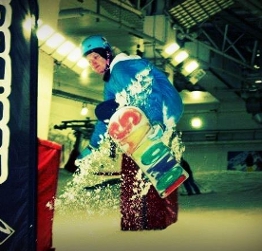 Did the helmet help?
Yes, it had a big crack down the back. That could've been my skull!
What are your opinions on helmet use?
Always wear one. They're getting smaller and lighter now so don't feel or look so big or heavy on your head.
Marco Eydallin
Use Your Head caught up with pro freestyler and coach Marco Eydallin ahead of the 2012/13 ski season and got his opinions on helmet use and a variety of other ski topics
Marco Eydallin was born in Bexley, Kent, on the 28th February 1984. Living in Sauze d'Oulx, Italy, and coming from a family where both his father and grandfather were both ski instructors, it was only a matter of time before he took up skiing and at the age of 4 this became a reality. At the age of 7 Marco joined the Sauze d'Oulx ski club where he competed in National races until the age of 18. In June 2003 Marco passed his ski instructor exams and then the following year passed his trainer exams to become a ski club 1st level trainer.
In 2008 Marco and two friends started freeskicamp.it in partnership with Nordica. They thought it would be a fantastic idea to teach freestyle skiing instead of more traditional, normal skiing. This project, with the backing of Nordica, has gone from strength to strength and now takes up most of Marco's piste time.
Sponsors: NORDICA, QUIKSILVER, SPY+, FATCAN, GUASTO, INVICTA
The Interview
Hi Marco, thanks for speaking with us. So then what's your favourite trick?
Uh tough question... there are so many fun tricks to do it's hard to choose one. I would have to say a Rodeo 540 is my favourite though.
And what sort of music do you listen to?
I usually don't listen to music when I ski but otherwise I like electronic and hip hop music.
Do you have any superstitions?
I don't like the number 13!
So, what's the best thing about being a pro then?
The best thing of being a pro is that you get the chance to travel and visit incredible places doing what you love the most. As a coach the best thing is the smile on a campers face after he landed a trick they've been working hard on.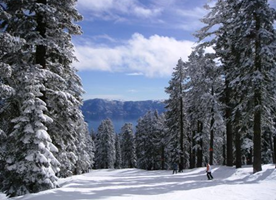 North Star - California
And what's your favourite place to ski and why?
Skiing in California at North Star just above Lake Tahoe was by far the best experience I've had. It has an incredible park, snow, warm and sunny weather and the people are all really friendly.
Do you wear a helmet?
When I'm not coaching I wear a helmet from the first minute I have my skis on.
Why is wearing one a good idea?
A helmet is like wearing a seat belt in a car - it can save your life!
Do you think wearing one should be mandatory for anyone in particular?
I think it should be mandatory for kids under 16 but not for adults. Despite the rules people must learn to behave responsibly.
Have you ever been involved in an accident where wearing your helmet helped protect you from harm?
I hit my head quite badly a few years ago while jumping. I temporarily lost my memory and was sick with a concussion. I spent a night at the hospital. I don't want to think what would have happened to me if I wasn't wearing a helmet.
Freeskicamp coaches go to Val Thorens from Marco Eydallin on Vimeo.