Prices from £7.88 for 1 week's cover in Europe
Why Choose Single Trip?
Perfect for weekend breaks or longer holidays
Single Trip Policies are ideal for any UK resident up to 74 years of age (65 if you're doing winter sports) looking to protect 1 trip of up to 87 days long. Single Trip policies can be booked 365 days in advance.
Only pay for the cover you need!
You can customise your policy to suit your holiday with the choice of 4 cover levels and 4 areas of cover so that you only pay for the cover you need. You can also add extra protection for pre-existing medical conditions, sports, golf, cruises, business and weddings and more if you need it.
New Hand Luggage Only Policy
If you travel with hand luggage only, you can now Save 10% on your Single Trip travel insurance policy. Simply click on the button below to take you to the special hand luggage only quote form.
find out more & Save 10% !
Experts' Top Tip - One way Insurance: If you've got a one way ticket we offer one way policies for single outward trips that start in the United Kingdom.
5 Easy Steps to Book Online
Booking online is quick and easy, even for first timers. Just complete our short 5 step process: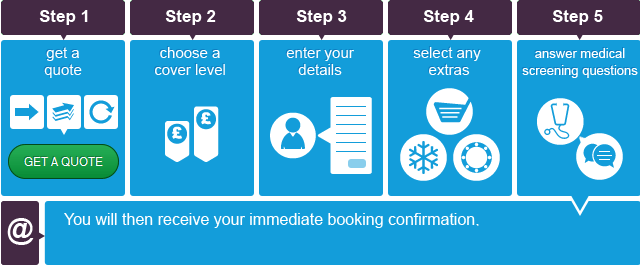 Add Extra Cover
You can customise your policy further with pre-existing medical condition cover, sports and a number of other specialist add-ons.
If you want to play sport on holiday, make sure you do so safely by adding the correct sports grade to your policy.
100+ sports are covered at no extra cost on our policies!
Read Reviews
Customers have scored Essential Travel on average 87%100 based on 1097 reviews.
Cheap. But not nasty!
I required travel insurance for my 13 year old daughters who are travelling unaccompanied to the USA later this year. Essential was one of the few companies I found that caters for that market and at a surprising low price. The cover is more than adequate although it has to be said that figures for the excess waivers were not so readily traceable. But got that I'd award it five stars. If we have to make a claim this review and the raring could go down as well as up.
B. D. Fileman -
"Essential" is , simply ..................... essential !
This is the easiest way to take out insurance for your annual holiday. There`s no hassle , no hidden terms ,and the price is very , very , competitive.
Mr Gresty -
no problems
good quick service
Ms Nutley -
Your Insurance, Our Expertise
Find the right travel insurance for your needs with Essential Travel's Expert Tips:
No. 1
5 reasons to book with us
Pay less for great cover
Customise your policy
Online medical screening
Receive instant cover
Read reviews and book with confidence
find out more →
No. 2
Customise your policy
We've made it easy for you to customise your travel insurance policy to ensure you only pay for the cover you need.
find out more →
No. 3
When should you book?
Get the most out of your policy as we reveal the best time to purchase your travel insurance policy.
find out more →