Do I Need Wedding Cover On My Holiday Insurance?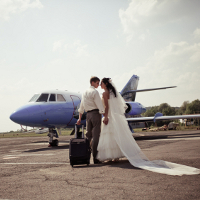 A couples wedding can be the most important day of their lives. Most couples spend months in advance planning every detail of the day from the venue, to the dress, to the dinner menu. Recently, more and more couples are opting for weddings abroad. Eloping to a tropical island or a chateau in the snow. Any number of things could go wrong on the big day which is why taking out special wedding/civil partnership insurance is an absolute must if you are planning a wedding abroad.
What does wedding travel insurance cover?
Wedding cover is an option especially for couples planning to travel for their big day. The cover insures all of the property purchased specially for the wedding
Wedding rings taken or purchased on the trip for each insured person
Wedding gifts taken, sent in advance or purchased on the trip for the insured couple.
Wedding attire which is specifically to be worn by you on your wedding day
Wedding attire includes: dress, suits, shoes and other accessories bought specially for the wedding and make up, hair styling and flowers paid for or purchased for the wedding forming part of your baggage.
Couples are also covered in the event that professional photography is lost, stolen or damaged. The expense to re shoot the photos will be covered under your policy.
There is a list of items and instances which are not covered in the wedding cover, which can be read in the policy wording.
Additional Wedding Cover
Policies can be customised further to add pre-existing medical condition cover, sports and a number of other specialist add-ons. It is advisable to think ahead to the various activities which may take place for the duration of the time spent abroad. If for example the groomsmen will be partaking in a day or two of golf, customers may want to consider looking at the extra cover golf insurance.
A wedding insurance policy should be coupled with an appropriate level of sports cover. For couples who may be planning an adventure sports wedding a full list of activities is covered in the different grades of sports travel insurance offered. Grade one is included free in all travel insurance policies and this includes romantic hot air ballooning. On the other end of the scale is grade 3 which covers skydiving for those couples who want to exchange vows at 20,000 feet.
How To Book
Wedding/Civil partnership cover is an additional option which can be added to most travel insurance policies with the exception of standard. Wedding cover is located under the travel insurance tab on our homepage and can also be added as at the additional extras stage of the booking process.
more hub posts