Prices from £15.75 for 1 week's cover in Europe
Holiday Insurance for Group Travel
You can travel with a group and have fun doing it. Essential Travel provides cover for you and your friends when choosing any of our Single, Annual or Backpacker trips. Our Backpacker quote covers those aged between 19 and 45.
Booking your holiday insurance online with us is quick, easy, and secure. You can take out a policy for up to 8 people at a time in the quote form above, or call us for larger groups.
Benefits included in your group holiday insurance
Provision of up to £10 million medical cover
Cover for loss of baggage and personal property
Add extra cover for pre-existing medical conditions with our easy online medical screening*.
Cover for more than 60 medical conditions for free.
More than 100 sports activities are covered for free.
*Screening for medical conditions needs to be done on an individual basis.
Only pay for the cover you need
You have the choice of 4 cover levels and 4 areas of cover so that you only pay for the cover suited to your needs. You can also add extra protection for pre-existing medical conditions, sports & winter sports so that you can make the most out of your holiday, safely!
Experts' Top Tip – If the group you are travelling with wants to go on a cruise, add extra cruise cover to enjoy the benefits, such as extended baggage cover and missed shore trips.
5 Easy Steps to Book Online
Booking online is quick and easy, even for first timers. All you need to do is: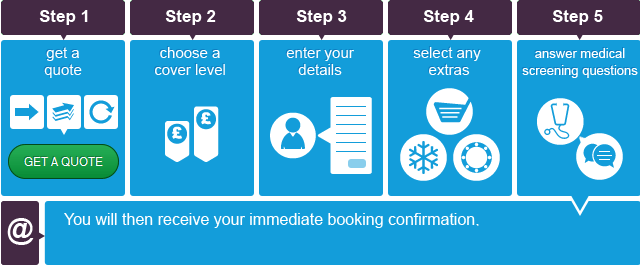 Add Extra Cover
You can customise your policy further with pre-existing medical condition cover, sports and a number of other specialist add-ons.
If you want to play sport on holiday, make sure you do so safely by adding the correct sports grade to your policy.
100+ sports are covered at no extra cost on our policies!
Read Reviews
Customers have scored Essential Travel on average 87%100 based on 1056 reviews.
Fast Easy & Value for money
I used this service to arrange travel insurance from my 9 year old grandaughter as I already had mine through my bank account. The whole process took only minutes and the system was very easy to use.
Ms Sue Trezise -
far cheaper and covered more than most other quotes i looked at.
ful package was cheaper than any of the basic quotes i was finding online, we always use these guys for our travel insurance
Miss Batho -
Quick concise service
Have been using for a few years, good competitive price
Mr Cairns -
Your Insurance, Our Expertise
Find the right travel insurance for your needs with Essential Travel's Expert Tips:
No. 1
5 reasons to book with us
Pay less for great cover
Customise your policy
Online medical screening
Receive instant cover
Read reviews and book with confidence
find out more →
No. 2
Customise your policy
We've made it easy for you to customise your travel insurance policy to ensure you only pay for the cover you need.
find out more →
No. 3
When should you book?
Get the most out of your policy as we reveal the best time to purchase your travel insurance policy.
find out more →