Prices from £19.24 for 1 month's cover in Europe
Why Choose a Backpacker Policy?
Provides up to 2 years continual protection that can be purchased 60 days in advance and is available for anyone aged between 18 – 45 years old*
Allows you to work whilst you travel by covering non-manual work such as; restaurant and bar work, fruit picking, voluntary work, au pairs and many more
It also covers 1 trip home of up to 14 days – great if you get homesick or need to come home urgently
* Please note: We are only able to insure backpackers aged 18 to 45 for the duration of their trip. Travelling whilst outside this age bracket will invalidate your policy and not protect you when abroad. Also, only two travellers can be insured on a single backpacker policy - additional travellers will need a separate backpacker policy.
The Great Backpacker Giveaway
Whether you're still planning your big adventure or are about to embark on your intrepid travels, our Great Backpacker Giveaway will help you get ready for the trip of your life.
15% Discount on our specialist Backpacker travel insurance policy
A - Z Backpacking Bible - Download FREE
find out more !
Only pay for the cover you need
You have the choice of up to 3 cover levels and 4 areas of cover so that you only pay for the cover you need. You can also add extra protection for pre-existing medical conditions, sports & winter sports so that you can get the most out of your trip – safely!
5 Easy Steps to Book Online
Booking online is quick and easy, even for first timers. All you need to do is: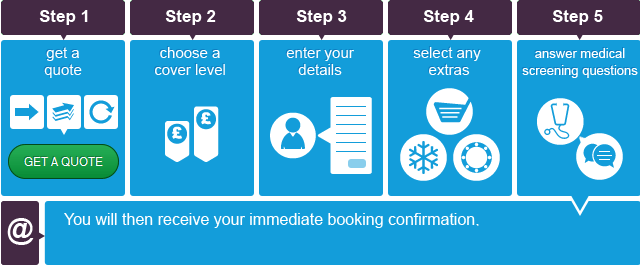 Add Extra Cover
You can customise your policy further with pre-existing medical condition cover, sports and a number of other specialist add-ons.
If you want to play sport on holiday, make sure you do so safely by adding the correct sports grade to your policy.
100+ sports are covered at no extra cost on our policies!
Read Reviews
Customers have scored Essential Travel on average 87%100 based on 1105 reviews.
Dived into a great insurance
Customer advisor was very helpful ensured that I had the right cover for my type of diving 2nd time I have used this company everything is ok
Mr Maxwell -
5 Star
As it should be
Mr denn -
grt site for covering any travel needs!
My 14 year old daughter is goin on holiday with her grandparents& i had trouble getting her holiday insurance because of her age, but thankfully i was able to get it thru essential travel, quite reasonable too&covers her for almost everything! def recommend essential travel to any1 :-)
Mrs Williamson -
Your Insurance, Our Expertise
Find the right travel insurance for your needs with Essential Travel's Expert Tips:
No. 1
5 reasons to book with us
Pay less for great cover
Customise your policy
Online medical screening
Receive instant cover
Read reviews and book with confidence
find out more →
No. 2
Customise your policy
We've made it easy for you to customise your travel insurance policy to ensure you only pay for the cover you need.
find out more →
No. 3
When should you book?
Get the most out of your policy as we reveal the best time to purchase your travel insurance policy.
find out more →