Attraction Tickets
Choose your destination to find a whole variety of attractions, experiences and tours.

Affordable London Eye Tickets At Your Fingertips
Get cheap tickets for the London Eye and see the capital in a whole new light! Simply follow our straightforward online booking tool and voila - you'll be able to secure your attraction tickets within minutes.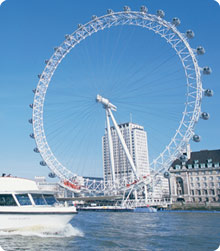 Includes
Low prices on all attraction tickets
No credit card or booking fees
Instant confirmation of tickets via email
An easy platform for browsing!
We provide:
Back to top
London Eye Ticket Options
If you're the type who enjoys a bit of local theatre or afternoon tea, along with a bird's eye view of London, then you're in luck. We offer a great selection of London Eye tickets that come with fantastic entertainment options. Choose your favourite option:
Billy Elliot Afternoon Tea at Harrods & London Eye
Blood Brothers, Palm Court & The London Eye
Chicago, Dial Restaurant & The London Eye
Grease, Afternoon Tea at Harrods & The London Eye
Les Miserables, Afternoon Tea at Harrods & The London Eye
We Will Rock You, Tea at Harrods & The London Eye
And more...
So whether you'd enjoy sipping a cup of afternoon tea, or watching a popular show such as Chicago or We Will Rock You, before sightseeing on the London Eye, we can arrange it all. Our tickets are easily available online at discounted prices. Get a quick quote above to see for yourself!
Contact Us Today
Is there anything you would still like to know? Click on the quote form above and get your London adventure started.
Book with confidence



Essential Travel Ltd are Authorised and Regulated by the Financial Services Authority No 300175.
Copyright
© 2013 |