Book Review: The Divine Supermarket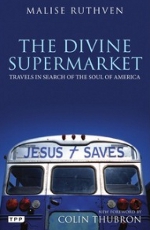 The Divine Supermarket: Travels in Search of the Soul of America is a travel book which the author describes as a journey to "expose the country's psyche as well as its social and physical landscapes". As Ruthven travels across the United States in a worn-out camper van, he explores various ideologies, from religious fundamentalism to New Age spirituality.
His journey brings him face to face with faith, continually prompting one to wonder whether or not his objectivity will be swayed. "Did I feel a spark of faith myself? Did a chink of the divine light penetrate my intellectual scepticism, casting doubt upon my agnosticism? That I must leave for my readers to judge for themselves".
Essential Travel Rating: 9/10
The Journey
Ruthven's journey begins in Puritan New England as he explores the birthplace of Mormonism. He then delves into Utah's Latter-day Saints, before continuing on to Montana where he comes across a sect of Neo-Nazis. His encounter with Native Americans allows for insight into the rituals of tribal remembrance in a postmodernist society. Following this, he discovers what has endured of a sixties love-cult and ponders the teachings of Bhagwan Shree Rajneesh, an Indian mystic. The most righteous televangelists come under study as he questions their leftist dogma in the light of the financial and sexual scandals surrounding them. California offers him a bevy of New Age ideologies and cults and further cements his notion that "the Gospel's being marketed like soap powders: the same product but with different packagings".
The Bottom Line
It has been 25 years since Ruthven's journey, but his ruminations on the spiritual and cultural landscape of America are just as relevant today, as the country continues to undergo a major religious revival. His air of casual detachment allows for insightful and often humorous musings on faith, morality, sexuality, corruption and cultural conventions, providing for an expert travel book and the most enjoyable of religious explorations.
About the Author
Malise Ruthven was born in Dublin in 1942. He graduated with a Masters in English Literature from Cambridge. He later continued his studies there, attaining a Ph.D in Social and Political Sciences. He has worked as a scriptwriter with the BBC Arabic and World Services, and has taught Islamic Studies and Comparative Religion at the University of Aberdeen, the University of California and Dartmouth. He has also made a name for himself as contributor to The New York Review of Books and other publications, and is the author of several books. Ruthven is a self-proclaimed agnostic, who after travelling in search of the Soul of America conceded to "feeling a breath of spiritual fresh air".